Entities Pleased with Allocation of Funds for Post-Indian Pt.
We are part of The Trust Project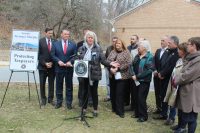 With the potential loss of $32 million annually when the Indian Point nuclear power plants stop operating, entities being affected have been scrambling to identify possible ways to replace the funding.
Last week, local officials welcomed news from State Senator Terrence Murphy (R/Yorktown) that $24 million had been added in the recently approved state budget in a specially designated fund that could be tapped into as early as 2022 if Indian Point shuts down as planned.
"This is a great start in the right direction," said Murphy, who noted Governor Andrew Cuomo had proposed no additional revenue be put into the New York State Electric Generation Facility Cessation Mitigation Program, which currently has a total of $56 million. "Hopefully we'll get more. This is a safety net."
In January 2017, local officials were stunned to learn Entergy would be pulling the plug on its controversial facility, an outcome that Cuomo had been advocating for years. Since that time, a local Community Unity Task Force has been established and meeting regularly to address the property tax implications of Indian Point's departure, along with the loss of approximately 1,100 jobs and the future use of the 240-acre site in Buchanan.
"I'm glad to see that the New York State budget did not forget the needs of the community that stands to suffer the most from the closure of the Indian Point Energy Center," said State Assemblywoman Sandy Galef (D/Ossining). "This is the best thing in the budget. This is a first very big step."
The Village of Buchanan stands to lose 46% ($4 million) of its operating budget, while the Hendrick Hudson School District will lose $24 million annually (33% of its budget). Others affected are: Cortlandt ($800,000), Westchester County ($1 million), Hendrick Hudson Free Library ($394,110, 28% of its budget) and the Verplanck Fire District ($372,703, 64% of its budget).
"It's not the pot of gold at the end of the rainbow, but it will certainly help," Cortlandt Supervisor Linda Puglisi said of the money set aside in the state budget.
In the first year of eligibility after the plants close, qualified entities would receive 80% of the tax loss, which would diminish by 10% per year for the following six years.  It has yet to be determined how the money would be shared.
"What happened in the budget should not be taken lightly. This is how government should work," said Hendrick Hudson Superintendent of Schools Joseph Hochreiter, who noted the district would have to increase taxes 13% annually for four years to offset the loss of Indian Point's revenue. "It has given hope to the community that our issues and concerns are being heard. I know the anxiety is lessened."