News Based on facts, either observed and verified directly by the reporter, or reported and verified from knowledgeable sources.
En-Wong, Grossman Lead Haldane to History
We are part of The Trust Project
State-Ranked (No.4) Blue Devils Upset No.1 Avon, No.3 Maple Hill to Claim 1st NYS Title
By Ray Gallagher, Examiner Sports Editor @Directrays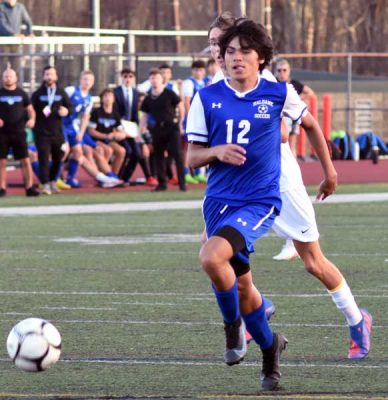 History is special when you make it, and there's a group of young men at Haldane High who know the feeling after the state-ranked (No.4) Blue Devils (18-2) ratcheted up their game last weekend and snagged the first NYSPHSAA Class C championship in school history last Sunday at Middletown High School where senior Ryan En-Wong's lone goal in the 78th minute provided a 1-0 win over Section 2 champ Maple Hill, ranked No.3 in NYS going in.
Blue Devil M Clem Grossman, who scored the game-winner off his own rebound in Saturday's 1-0 state semifinal win over top-ranked Section 5 champ Avon, set up the En-Wong goal.
"Oh my God, this feels amazing," En-Wong said as he clutched the coveted Section 1 title plaque. "There's no feeling like this. They had like eight guys on the back line the whole game, so I seen the ball get chipped over to me, flick it, the keeper takes me out from my knees obviously, and then history from there, it goes right into the back of the net.We just kept pushing. We've been through adversity all year, every game. We came through and we won like we always do. This means the world to me, no feeling like it."
En-Wong wasn't alone. After beefing up the regular-season schedule to prepare for the rigors of postseason play, the Blue Devils were prepared for this moment.
"I'm on cloud nine, man," Haldane Coach Ahmed Dwidar said. "We made history, it feels amazing! The job is done, our goals for the season complete. There couldn't have been another player as clutch as Ryan has been all year. Clem and Ryan are absolutely the best 1-2 punch I've ever coached. They are Batman and Robin!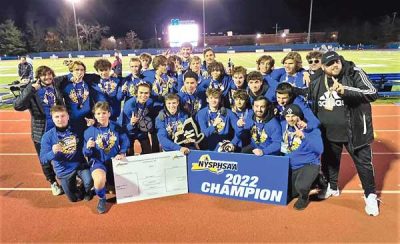 The coach also cited the play of Max Westphal, Matt Silhavy and 21 other Blue Devils and coaches.
"Our job is done, check mate," Dwidar exclaimed!
As it has been all season, Haldane's defense was stout throughout the state tournament, highlighted by the play of senior Will Sniffen and G Ronan Kitar, who stood on his head to stop Avon in the semis. Avon came into the semis 21-0 and had not given up a goal in its last 18 games. The last time the Braves were scored on was in their third game of the season, on Sept. 7.
"We had to do it for Will," Dwidar said. "He is our general on the field, and I kept yelling to my guys, 'Do it for Will'".
And they willed their way to history in the end.