Embracing the "New Normal" Without Actually Embracing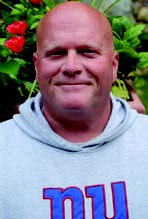 The Section 1 fall sports campaign, which is set to open up on Oct. 10, is going to be a chilly 33- to 34-day run for the initial league titles before climaxing with a frosty two-week run for the sectional roses, which are expected to conclude on or about Dec. 5.
Did I mention it's going to be cold? Wool socks, gloves and long johns will be as necessary as the mandatory face coverings that fans, players and coaches will be forced to wear as we wade through the COVID-19 pandemic with fingers crossed.
It's all slated to start this Saturday, but it could end as early as Sunday should we not conform to the new normal, which, I'm told – if challenged – will find folks on the outside looking in.
This isn't going to be a summer school fling, it's the real thing, folks: Not like it was this summer when copious masses ignored the protocols set about by travel club organizations that did the best they could to get us back to some semblance of normalcy while providing our kids with an excellent opportunity to be kids again #PraiseTheLord.
Section 1 administrators, including your faithful athletic directors, assure me that strict COVID-19 mandates and protocols will be adhered to as we embark upon this highly anticipated 2020 fall season, or the few fans permitted on campus will be set to jet, exit stage left.
"The last week has been so gratifying," Hendrick Hudson Athletic Director Tom Baker said. "It felt so good seeing the student athletes back on the fields. At Hen Hud, we are trying to get the message home that we have one chance to get this right. With that, the protocols we must follow are critical. A lot of stakeholders put an enormous amount of time and energy into the return to sports plan. Let's take the opportunity afforded to us and get it right."
There's nothing that will be easy about this, not only because wool socks itch and stink, and my fragile, old bones despise the cold, but because we unwittingly lose an element of care and regard that is essential for student athletes as we practice the established protocols.
Perhaps the worst part of this social distancing between our student athletes and our coaches is the unintended lack of love and, oftentimes, tough love, required during teachable moments. Rather than wrap an arm around their players and pull them in for a hug, coaches are now required to distance themselves during one-on-one exchanges in what makes for an unintentional, cold-shoulder moment rather than a loving exchange of tutelage.
Good coaches know it's all about pushing the right buttons when we're working with student athletes. Some athletes need that in-your-face challenge to bring out the best in them, while others require an in-your-face hug, an arm wrapped around their neck coupled with words of encouragement. COVID-19 restrictions will strip our athletes of these precious moments on many occasions.
My recent assessment of this situation saddened me as I poked about local camps last weekend.
"Like anything else, we have to learn how to adapt, I suppose," Byram Hills boys' soccer Coach Matty Allen said. "We need to figure out how to show affection with our eyes, a little wink, a little thumbs up or a little verbal compliment in front of others."
Still, nurturing, motivating and inspiring is part of the deal of coaching. Distancing makes that difficult. Heck, every kid I've interviewed over the last 32 years of my career was met with a handshake or a bro-hug, so I got some adjusting to do, too #AirHugs. Parents, too, will need to adjust when Junior's love tank is empty on the ride home. Be there to fill 'er up.
"Sure, the physical nature of a touch of the shoulders or a hug isn't there, but a simple 'You did that so incredibly well,' or a 'Hey, how's your family doing' goes a long way," Allen said.
Until we put this pandemic down, it'll have to make due for now, but understand this student athletes: Your coaches care for you.
Yeah, #2020Rots: I think I can say this with unequivocal conviction: 2020 will not only be the worst year in New York State history, but it'll be, without question, the worst combined season for the winless Giants and Jets, who are currently battling one another for the No.1 pick in the NFL draft and season-long ineptitude, though the Giants have had a puncher's chance in each loss. In a year that's seen New York City dry up and crumble amidst reckless leadership, I reckon it's only fitting the Jets and Giants go down with the ship. As currently constructed, both teams are the cure for what ails any NFL team. Thank God for the Yankees, and P.S., I'm all in on the undefeated Buffalo Bills!