Efforts Underway to Rescue Croton Man Trapped in Turkish Cave
News Based on facts, either observed and verified directly by the reporter, or reported and verified from knowledgeable sources.
We are part of The Trust Project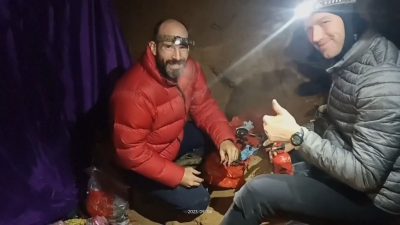 A 40-year-old Croton-on-Hudson man remains trapped in a Turkish cave after experiencing life-threatening illnesses while assisting in an exploration.
Mark Dickey, a caving instructor and Chief of the New Jersey Initial Response Team (NJIRT), became sick Aug. 31 while 1,040 meters deep in the Morca cave in southern Turkey's Taurus Mountains with a handful of others.
According to a release from the NJIRT, Dickey suffered intestinal problems that rapidly progressed into serious bleeding and vomiting. He was unable to get out under his own power and only experienced cavers are capable of reaching him to render aid.
The Morca cave is very deep, wet and cold and experienced cavers who know the cave take eight hours to reach the location where Dickey lies. The phone lines in the cave have become inoperable, so communication between the surface and Dickey's location is extremely slow.
On Sept. 5, doctors were able to reach Dickey with fresh blood and fluids to replace some of what he lost and his condition was reported to be slightly improved. However, he was still unable to move on his own.
It is reported that rescuers from Turkey, Italy and Croatia, as well as others in Europe and the United States were responding to assist with the rescue. However, the location is very remote and the local water resources are limited. The Turkish military has stepped in to coordinate and to supplement the local resources.
On Sept. 9, an official with a U.S. National Cave Rescue Commission reported Dickey was in "stable but fragile condition." Officials said it could take days to bring Dickey to the surface since rescuers anticipate he will have to stop and rest frequently at camps set up along the way as they pull his stretcher through the narrow passages.
A temporary camp is being prepared at the 700-meter level and rescuers are preparing to move him to the camp. There are narrow passages, just big enough to crawl through, in between the two that are being enlarged by demolition teams so that Dickey can pass through when he is on a rescue litter.
The NJIRT said a 2014 rescue from a similar cave in Germany required 700 rescuers more than a week to complete.
A GoFundMe page created in Croton to assist the international rescue teams has raised $56,000 of a $100,000 goal.