Effort Continues to Remove Trump Name from Local State Park
We are part of The Trust Project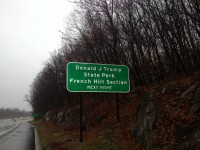 While Donald Trump continues to be the frontrunner for the Republican nomination for president, an effort continues locally to remove the celebrity real estate developer's name from a state park in Yorktown.
An online petition drive started nine months ago by a Brooklyn man has attracted the support of Congressman Sean Patrick Maloney (D-NY 18th District) and 2,800 followers to date looking to dump Trump and rename the large open space parcel off Baldwin Road after late civil rights activist and folk singer Pete Seeger.
"Donald Trump is barreling toward the Republican presidential nomination and in a topsy-turvy year, one thing's for certain: I never want to see his name again," Maloney stated in a recent solicitation email. "Trump's hateful rhetoric doesn't reflect the values we hold in our district, but right now, we're stuck with a park named after him. My friends in the New York State Senate say it's high time that Donald J. Trump State Park got a new name, and I couldn't agree more. Our community should honor people who have made our country a better place for everyone."
In the state Legislature, 20 Democrats have called for the New York State Department of Parks, Recreation and Historic Preservation to erase Trump's name from the park that has honored him since April 2006 after he donated 436 acres in Westchester and Putnam counties to the parks system after his plans to build a golf course fell through.
Former Governor George Pataki, who was among the crowded GOP field of presidential hopefuls before bowing out earlier this year and mixed it up with Trump in the media, stood side-by-side with Trump 10 years ago when Trump made the large open space donation to the state.
Those who signed the online petition expressed strong opinions about traveling along the Taconic State Parkway and seeing Trump's name prominently displayed, which reportedly was legally agreed upon when the land deal was reached.
"I travel the Taconic Parkway several times a year and have done so since the 1970s —when I reach the sign announcing Donald J. Trump State Park I cringe at the absurdity of the vanity-naming of any NYS Park. Get rid of the name," Anthony Cocuzzi of Valley Stream wrote.
"Trump is a disgrace and Pete Seeger is a hero," Anna Hammond of Nyack wrote.
"I am a resident of Westchester County who doesn't want to see Donald Trump's name any more than I have to," Anna Loizeaux stated.