Early Deficit is Too Much for the Bobcats in a Loss to Rye
We are part of The Trust Project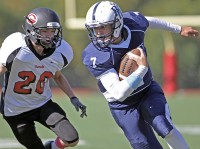 After yielding a pair of first-quarter touchdowns Sunday, the Byram Hills football team spent the rest of the afternoon playing a futile game of catch-up.
The visiting Rye Garnets managed to make just enough big plays when they needed to and held off a second-half Bobcat comeback bid, winning 28-21 under a cloudless blue sky on a crisp fall day. Despite over 100 yards rushing from both Mike Sardo and quarterback Lou Filippelli, Byram Hills lost for the third time in five games this season.
"We expected a war," said Byram Hills coach Scott Saunders soon after the Garnets had converted on a key fourth-down play in the final moments to clinch their latest victory and remain unbeaten. "We knew Rye's the best of the best, and our kids were prepared. Our kids were excited. Unfortunately, we came up a little bit short."
They came up short because an onside kick with 1:42 left on the clock was gobbled up by Rye's Chase Pratt and the Garnets were able to run out the remaining time. Facing fourth-and-four just past midfield with 43 seconds remaining, Rye ended the Bobcats' hopes of a last-minute miracle as Tim DeGraw took a handoff and ran 11 yards for a first down.
"Yeah, we were hoping to get that shot," said Saunders about the last-ditch opportunity that never materialized. "But Rye does their homework too. They made a great play to seal it."
The Bobcats found themselves playing from behind all afternoon once Rye's standout quarterback, Andrew Livingston, ran five yards for a touchdown nearly five minutes into the game. The Garnets' lead increased to 14-0 in the final minute of the first quarter when DeGraw capped a 10-play, 80-yard drive by running left five yards for another touchdown.
But Byram Hills responded with a 14-play drive that covered 80 yards and over five minutes. A 17-yard Filippelli-to-Kellen Hatheway pass on third-and-eight early in the possession sustained the drive, which was concluded when Filippelli ran straight ahead to score from the 5-yard line with 6:53 left in the half. The extra point by Jerry Friedman moved the Bobcats to within 14-7.
Rye answered right back, going on a 14-play drive of its own that began at the Garnet 31-yard line. Livingston, who finished the day with 15 pass completions for 222 yards, scored the touchdown on a run from a yard out with exactly two minutes left in the second quarter. The half ended with Filippelli's long pass toward Sardo and Hatheway down the left sideline getting picked off and the Bobcats trailing by 14 points.
"We knew," said Saunders, "that if we could stay within striking distance we had a shot. Unfortunately, again, we were just a little bit short there."
The Bobcats did indeed get within striking distance twice in the second half. They scored on the opening possession of the third quarter, going 66 yards in nine plays. A pair of passes to Hatheway helped set up Filippelli's second rushing touchdown, a 10-yard run that came three and a half minutes into the half.
With its lead again sliced to seven points, Rye once more answered the challenge. The Garnets marched 65 yards in less than three minutes, getting a key first down on fourth-and-one when Livington spun his way for a couple of yards to the Bobcat 40-yard line. On the next play, he hit Drew Abate with a pass over the middle for a touchdown. The point-after kick gave Rye a 28-14 advantage.
A 48-yard run by Sardo, who wound up with 145 yards on the ground, soon gave the Bobcats the ball at the Rye 25. But on fourth-and-one, the Bobcats turned the ball over when Filippelli handed off to Sardo and the ball squirted free. Two plays later, though, the Bobcats' Andrew Zaccagnino recovered a Garnet fumble and Byram was back in business with 1:31 left in the third quarter.
But Sardo was tackled behind the line on first down, then Filippell's pass over the middle to Karl Samsen was intercepted by Sam Lubeck. The fourth quarter began with the Bobcats still behind by 14 points, but hardly finished. An 80-yard drive that took just under two minutes late in the period moved the Bobcats back within seven points and provided some drama for the final few moments.
The Bobcats' touchdown drive was highlighted by Sardo's third-down, 32-yard run in which he broke several tackles and reached the Rye 41. There was also a 23-yard pass to Hatheway on fourth-and-10 after Filippelli had two straight passes knocked down at the line of scrimmage. Three plays later, Filippelli hit Sardo with a six-yard TD pass. Friedman's kick made it 28-21 with 1:42 still on the clock.
Unfortunately for the Bobcats, the onside kick wound up being easily grabbed out of the air by Rye's Pratt and they never got the ball back again.
"I think our boys played a great second half to hold Livingston and their offense to seven points," said Saunders. "I'm really proud of the way they played in the second half. We were able to take DeGraw out of the mix, but they had some other guys step up. Them having the ability to turn to other answers was the difference."
With games against Pelham and Hendrick Hudson still on the schedule before the regular season ends, Saunders can only hope Saturday's losing battle against an elite team helps down the road.
"We know what it takes to prepare to go toe to toe with the best," he said. "Hopefully, one of these weeks we can poke through. The way we look at it, we've got to win out. We've got to win out and we're still in the mix. Obviously our playoff hopes aren't dead. We just need a little bit of help."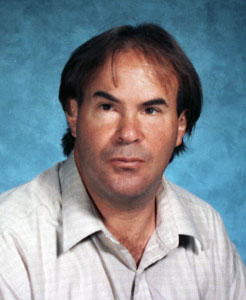 Andy is a sports editor at Examiner Media, covering seven high schools in the mid-Westchester region with a notebook and camera. He began there in the fall of 2007 following 15 years as a candid photographer for the largest school picture company in the tri-state area.
Read more of Andy's full bio here.
Read Andy's archived work here.