Eagle Flies High in Byram Hills' 3-0 Win over Greeley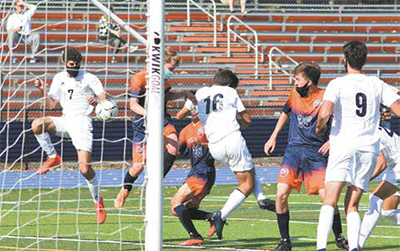 Big Week on Tap: White Plains vs. Ossining, Yorktown vs. Somers, P'Ville vs. Briarcliff
Examiner Sports Editor@Directrays
Byram Hills used its pent up energy as a catalyzing force in its season opener against host Horace Greeley last Saturday, using the last seven months of COVID-19-induced inactivity to spark the Bobcats to a 3-0 league win over the Quakers on the first day of Section 1 competition since the pandemic struck in early March.
Byram Hills junior midfielder Ross Eagle scored in the game's 24th minute and then hit for another late in the second half for a 3-0 lead. Junior forward Nico Bisgaier added pair of assists for the Bobcats; one to Eagle and another to Owen Fleischer in the 42nd minute.
"I thought our kids played pretty well today," Byram Hills Coach Matty Allen said. "We lost two starters yesterday and two in the game today, so I think the bench really stepped forward. We got great minutes from Aiden Heffner and Owen Fleischer, who made their debuts on the field today. We have practiced well, got used to the masks and I think being in school since September 1 certainly helped. We talked a lot about the distractions just to get them ready for it."
Defensively, Kalden Harp was a beast for the Bobcats and keeper Aidan Cogan (three saves) filed his first clean sheet of the season.
"I think with the energy we showed today and throughout our practices, you can definitely see that our boys feel the same way and like you said the energy was there," Harp said. "We've been putting in a lot of work this off-season whether it be doing individual workouts or socially distant practices. Coach Allen does a great job of motivating us to be better and to constantly be pushing ourselves to be better so a big part of that is definitely credit to him. One of the great things about our team this year is we have a very strong lineup all around, and all of our players including the players coming off the bench are capable of playing a large part for the team."
At Byram Hills, they are always ready for opening day, using the ceremonial outing to end what might become a two-game skid when coupled with the season-ending loss of the previous season. A perennial powerhouse, the Bobcats have only lost two games in a row twice since 2006, a remarkable feat under Coach Allen.
"We always treat opening day as a day to stop the streak," Allen said. "It builds a bond within the program and a connection to the graduates. Every senior texts me after game and said 'You stopped the streak'. We didn't want to lose two in a row, so we challenged the kids with that. Have to give the boys credit; they rose to occasion. I think Greeley will get better as year goes on: Seems that way every year. Losses build character and without question, Coach Camp will have them ready."
The Quakers were hard-pressed to stop the combination of Eagle and Bisgaier up top. The crafty duo worked outside-in and inside-out to produce results and force the issue.
"They are good players with great motors," Allen said. "Eagle has such pace to him and his communication is phenomenal with Nico. Both are juniors, so we're really lucky there."
In Greeley's pre-game prep talk, the captains were overheard challenging the unit for energy and intensity. After the long delay to open the season, the Quakers seemed too tame, almost nonchalant in their approach.
"We were a little hesitant and that's on me," Quaker Coach Camp Shropshire said. "We're not a rah-rah bunch this year, so we better get it done with our feet! Also, our midfield was all new and they will adapt and improve as they gain confidence."
Greeley had seven new starters in the lineup, so the coach is expecting bigger and better from his squad as the season progresses.
"We don't like the loss, but I saw a lot that went well, so I am hopeful and look forward to growing with the boys," Shropsire said. "Byram was very good at attacking the ball right away and kept at it."
The Bobcats will visit Fox Lane today (4:30 p.m.) and host Ardsley Friday (4:15 p.m.). Looking to bounce back the week, Greeley will host Ardsley Wednesday (4:15) and host Edgemont Friday (4:15 p.m.).
ON DECK
WHITE PLAINS is set to kick off a highly anticipated season with three games this week, including the mother of all challenges against league rival and defending Section 1 Class AA champion
OSSINING Thursday at 4:15 p.m. The "O" will be jam packed with as many people as legally allowed by COVID-19 restrictions, so the Tigers will be entering hostile territory after opening the season at Eastchester today (4:15 p.m.). The week's action will conclude with a home opener Saturday (1 p.m.) against Fox Lane.
"We are looking forward to an early road test against the defending league and section champs," Tigers Coach Mike Lambert said. "The playoff loss to Ossining still sits fresh in our minds. A different bounce or two at the end of that game could've had us advancing last year. We will be ready to go on the road against one of Section One's best. The boys are ready to show the section and, specifically Ossining, what we will bring this season."
What Ossining will bring is senior forward Kevon Evans (9G, 7A), quick along the wing and lethal in space. He led the Pride to a Section 1 Class AA title by scoring both goals in a 2-1 win over Mamaroneck. White Plains will counter with solid defense led by senior keeper Thomas Pisapia and senior MF Eric Ramirez.
The White Plains field hockey team was also set to be put to the test today (5 p.m.) in a season- opening tilt against sectional runner-up Mamaroneck, arguably the best Class AA program in Section 1 the past decade.
Girls' soccer was set to open Wednesday against visiting Port Chester (4:30 p.m.), followed by a Friday (4:30 p.m.) game against host Scarsdale B.
SOMERS, which is widely considered the Class A favorites this season after a runner-up campaign in 2019, opens Wednesday at PANAS where All-Section senior striker Tristan Phillips lurks. Phillips is sure to see a whole lot of Somers senior D Derek Marques, an Oneonta-bound stud. The Tuskers will also host Yorktown on Friday (5 p.m.) on senior night where Husker junior M George Popovic and co. will try to hold Somers in check.
LAKELAND was set to host PUTNAM VALLEY Wednesday (6 p.m.) and Panas Friday (5 p.m.) in a couple of border wars.
BRIARCLIFF was set to host PLEASANTVILLE today in a local barn-burner between two of Class B's finest.