Dylewski Appointed New Police Chief in Peekskill
We are part of The Trust Project
By Rick Pezzullo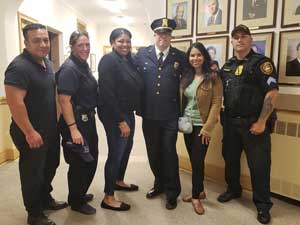 A longtime member of the Peekskill Police Department was appointed the new chief of the police force last week. Leo Dylewski, who joined Peekskill Police in August 2020, replaces Don Halmy, who announced last month he was retiring after less than three years as chief.
"I'm humbled and honored to give back to the community that has given so much to me," Dylewski told the Common Council on September 27 at City Hall with several fellow officers, family and friends in attendance. "I have deep ties to this community."
Dylewski attended the Westchester County Police Academy after being hired by the New York City Department of Environmental Protection Police in 1999. Throughout his career in Peekskill, he has been community-oriented, specializing in helping the youth throughout the city. In 2004, he became a DARE Officer and in 2005 began working with the Community Policing Unit. Soon after became a trained Juvenile Officer.
Appointment to those positions collectively forged a strong and positive relationship within the Peekskill City School District where Dylewski taught and mentored youths for more than 15 years.
Following his reassignment to the Patrol Division, he continued his outreach to the public, building strong ties throughout the community. In 2014, after being promoted to Sergeant, he maintained a presence within the department's youth and community programs coordinating the City's DARE and GREAT programs. He also served as the commanding officer of the Auxiliary Police Program.
In 2017 he was promoted to the rank of Lieutenant and played a vital role in the implementation of the DARE program for the Town of Cortlandt. In 2019, he was reassigned to Lieutenant Patrol Commander tasked with maintaining the day-to-day operations of the Patrol Division.
Dylewski has served as President of both the State of New York Police Juvenile Officers Association and the Westchester County Youth Officer's Association and continues to sit on those boards. He earned a bachelor's degree in Community and Human Services from SUNY Empire State College in 2013 and a master's degree in Public Administration from Marist College in 2016.
"My key goals include implementing the recommendations outlined in the Police Reform mandate, which includes strengthening and fostering strong community engagement, expanding services to those who suffer with mental health-related issues, and advanced training courses for our officers," he said.