DOT Curtails Evening Saw Mill Work, Extends Length of Project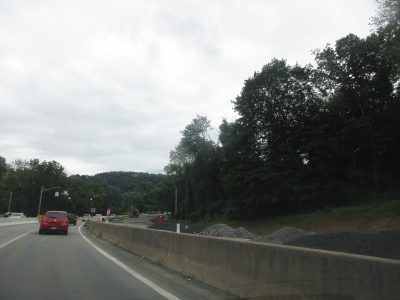 Completing work on the Saw Mill Parkway in Pleasantville and Mount Pleasant will take at least a year longer than expected but neighboring residents who've endured persistent noise are now receiving some relief.
State Sen. Peter Harckham (D-Lewisboro) and Assemblyman Thomas Abinanti (D-Pleasantville) successfully pressed state Department of Transportation (DOT) officials to curtail most of the crews' activity by 10 p.m. each night rather than continuing into the wee hours of the morning.
However, the project to raise about a 1.3-mile stretch of roadway from about Grant Street in Pleasantville to just north of the exit for the Sprain Brook Parkway to alleviate flooding during significant rain is likely to extend at least until next summer.
"The DOT agreed to honor the request of the community to limit the work to no later than 10 o'clock at night and to start no earlier than a certain time in the morning," Abinanti said. "But they warned that this would delay completion of the project for about a year."
Last November, just before the project was set to begin, the DOT originally forecast that the work would take about eight months. Completion of construction on the southbound side is now projected for December; the northbound roadway is slated to begin early next year and won't be finished until next July, according to Harckham's office.
Since late last year, motorists traveling southbound have put up with delays as the parkway narrows to one lane from about Grant Street to south of Marble Avenue in Thornwood.
But the inconvenience for motorists pales in comparison to how some residents have been subjected to the pile driving and other loud work that on some days started between 7 and 8 a.m. and sometimes didn't end until after midnight.
Residents along Pollywiggle Lane, which is just outside the Village of Pleasantville, and along Booth and Hopper streets within the village, have been the most seriously affected, said Pleasantville Mayor Peter Scherer.
Scherer said since the work has been ending earlier there appears to be an improvement, but some residents are still not satisfied with the steps taken. Some would like to mitigate any potential changes in sound once the project is finished along with a more effective buffer.
"It's a big and difficult project," he said. "It's easy to see to see why it takes so long."
A representative for Harckham said the senator and Abinanti walked through the work area with the DOT's regional director, urging the agency to revise the daily work schedule.
"We understand that the New York State Department of Transportation is trying to get this project done as quickly as possible so there's a balance that needs to be achieved for the residents there and we're going to continue to work with them to make sure it's acceptable for people in that area," the representative said.
However, Abinanti has been highly critical of the DOT, especially for failing to address impacts on the community with local residents before work got underway. He also blamed the Cuomo administration for looking to get work done as quickly as possible without regard for residents. The assemblyman said he hopes there will be a more effective approach under Gov. Kathy Hochul.
"The end result is it was a one-sided view, which is how to fix a roadway, without taking into consideration the concerns of the community," Abinanti said. "Now they're responding to the concerns of the community, but that should have been done before the project started."
Elevation of the roadway is necessary to meet 100-year flood projections and provide necessary drainage improvements, the DOT said in a statement before the work started last fall. In past years, that stretch of roadway was prone to flooding and closures during persistent or heavy rains.