Dillon Looks to Bring Fresh Approach to State, 37th Senate District
We are part of The Trust Project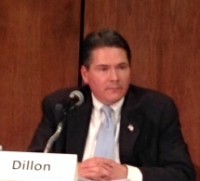 Joseph Dillon has had a varied career in private and public sectors that has given him a definite perspective on how government should operate.
He was senior vice president of global policy for Visa and served as a senior adviser and chief of staff to the undersecretary for domestic finance in the U.S. Department of Treasury during the George W. Bush administration. He returned to the private sector in 2007, in time to be laid off during the height of the economic upheaval.
Afterwards, Dillon launched his own government affairs consulting firm.
"I think that the people of the 37th (Senate)District have a historic opportunity in this election and this is why I'm running," said Dillon, who is on the Republican, Conservative and Independence party lines against Democrat George Latimer. "I think my opponent and I offer very, very different points of view and approaches to the voters and this seat could determine which party controls the state Senate."
Taxes
Dillon, 48, a Yonkers resident, sees New York State as being hostile to business and uncompetitive because of high tax rates and complicated regulations. He would propose across-the-board tax cuts for businesses and individuals.
Calling START-UP NY, Gov. Cuomo's initiative to have businesses that relocate or expand to New York pay no taxes for 10 years, "a gimmick," Dillon said he would propose cutting taxes on individuals by at least two points. He would also repeal the MTA payroll tax and institute Generally Accepted Accounting Principles.
"If we want to create a path to prosperity for New York State, for our children, we have to think about what's going to create the kind of environment to bring those jobs and those careers and those good, high paying jobs for our kids, and that's the kind of approach I'd like to bring to Albany," Dillon said.
To ease the crushing burden of property taxes on homeowners, Dillon would support a circuit-breaker to tie at least a portion of the property tax to income.
Mandate Relief
Real mandate relief is also essential to help the taxpayer. Dillon said he wants to see a comprehensive approach to review mandates across the board and end all unfunded mandates. In short, if the state wants a mandate, they should have to pay for it.
New York is the only state that requires its counties to pay a portion of its Medicaid bill, and Dillon would support a multiyear phase-in for the state to take over the entire cost of the bill.
If elected, Dillon said he would vote to end the Gap Elimination Adjustment (GEA), a tool that was introduced about five years ago to take 5 percent from all districts' state aid to plug holes in the state's general budget. Despite a slowly improving economy, the GEA remains in place.
"I wouldn't stand for that," Dillon said. "I would not allow it. You're stealing money from our schools, our kids, from our teachers because of this mismanagement."
Education
Dillon wants to see the full repeal of the Common Core, which he called an attempt to "federalize" the curriculum and requiring too much testing of students. He criticized Latimer for voting for the enabling legislation in 2010 that set the wheels in motion for the state to enact Common Core.
Instead, Dillon said the state should focus more on STEM curriculum to prepare students for 21st century jobs.
Energy
While Dillon acknowledges that "he's all about jobs," he would not support hyrdaulic fracturing, a practice of extracting natural gas, unless studies could prove that it can be done without endangering the environment and water supplies.
Phasing out Indian Point because of safety concerns and introducing renewable energy should also be a priority.
Women's Equality Act
Dillon said he enthusiastically supports the first nine planks of the Women's Equality Act, including equal pay and greater protections against domestic violence and harassment. However, he vehemently opposes the last plank, making late-term abortions available if the life or the health of the mother is in danger. What Democrats have included, is far outside the mainstream approach, he said.
"This is where I have an issue," said Dillon, who added that it wouldn't jeopardize a women's right to choose, which is outlined in the current law and in Roe. v. Wade."I find that to be reprehensible."
Dillon supports a full repeal of the SAFE Act, which was passed a month after the Newtown, Conn. massacre.
He also backs term limits that would restrict service of officials to eight years in office and chided Latimer for being "a 30-year career politician" who votes along party lines 97 percent of the time.
"I'm doing this not to have a career in Albany," Dillon explained. "I'm going up there for a finite time period to get things done."