Dilapidated Gas Station in Shrub Oak to be Demolished, Convenience Chain to Replace It
We are part of The Trust Project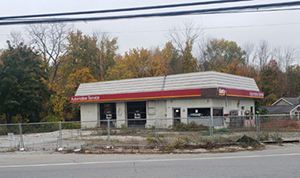 The long-closed Getty gas station on the corner of Route 6 and Barger Street in Shrub Oak is slated to be demolished Tuesday to make way for a new CoCo Farms convenience store and fueling station.
The former Getty station closed in 2016 and then was used as an auto body shop. The location will become the Elmsford-based CoCo Farms' 11th location in Westchester and Rockland counties.
"Our community's economic recovery from the pandemic depends on projects like the new CoCo Farms convenience store and many others, which send a positive signal to investors both inside and outside our community that we're open for business and interested in new approaches to long under-utilized, underperforming sites in our business districts," said Supervisor Matt Slater. "Particularly in the case of properties large and small that are at our major highway entry points, it is energizing and exciting to see new, improved uses emerge. These gateways are the front doors to our community, and we want them to be clean and active."
The new half-acre location will feature a 2,000-square-foot traditional-style building, four double-sided fuel pump islands and attractive landscaping. Work may begin in the coming weeks as soon as CoCo Farms obtains the proper demolition and constructions permits.
"As a native of Shrub Oak, I am very pleased to see this project move forward and improve one of the gateways of our community," said Councilman Tom Diana.
"This is one of many projects that show a renewed interest in doing business with the Town of Yorktown," said Councilman Ed Lachterman. "Having a town board that understands that they are the facilitator between the needs of the community and the projects coming into town is a large part of this renewed process."
The CoCo Farms project is one of many local renewal projects completed, underway or planned for empty buildings and lots in locations across Yorktown including:
In January, Oster Properties of Englewood Cliffs, N.J. unveiled concepts for a residential-retail complex at the Yorktown Green shopping center that would include the demolition of an empty Kmart and re-tenanting the long vacant Food Emporium supermarket.
Also, in January, the Town Board approved a flex-space use for a lot at 1600 Front St. that will allow the construction of a research and development facility for green technology by SK Energy Holdings.
Last June the Ohio-based CST Kitchens & Baths received approval to convert a former M&T Bank building at 1961 Commerce St. in Yorktown Heights to a kitchen and bath design showroom. The bank had been vacant for about three years.
Last May, Nestle Waters was approved to convert a former Verizon building at 3775 Crompond Road (Route 202) into a distribution center and offices bringing 60 jobs.