Digital Display Board Unveiled at Yorktown High School
News Based on facts, either observed and verified directly by the reporter, or reported and verified from knowledgeable sources.
We are part of The Trust Project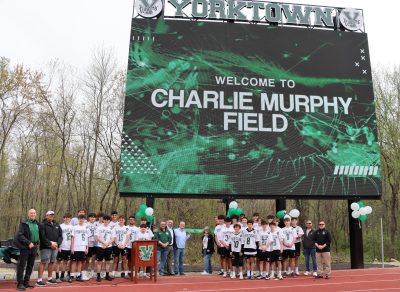 A state-of-the-art digital display board was recently unveiled at Yorktown High School's Charlie Murphy Field.
The more than 600-square-foot board was funded by a grant from the Dormitory Authority of the State of New York that was obtained by former state Senator Terrence Murphy, who was on-hand April 22 with town and school officials for a ribbon cutting ceremony.
"The possibilities are endless," said Superintendent of Schools Dr. Ron Hattar, who noted the board will benefit students in a variety of ways beyond athletics, such as ceremonies, fundraisers, arts programs and movie screenings.
He said it could also be a valuable resource for students interested in sports media.
Athletic Director Rob Barrett thanked Murphy for his commitment to the project, which began about five years ago, and expressed his excitement at seeing it come to fruition.
"The great thing about Yorktown is the support the schools and the Athletic Department get from the community," Barrett said. "Our senator, our Husker Booster Club, the Board of Education, the Superintendent, and our Facilities Department all had a part in making this project a success."
"This will be much more than a scoreboard. It will be a centerpiece for many community events with sports being just one of its uses," he added.