Development Firm Eyes Former Modell's Mt. Kisco Space for Medical Offices
News Based on facts, either observed and verified directly by the reporter, or reported and verified from knowledgeable sources.
We are part of The Trust Project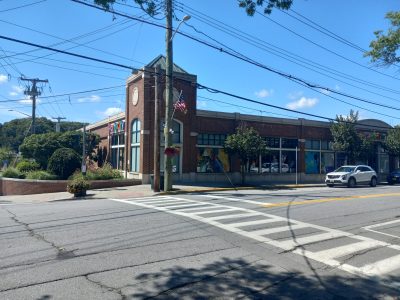 A prominent corner commercial space in downtown Mount Kisco that has struggled to maintain a tenant at times for more than a decade could see a new use at that location.
Representatives for Simone Development Companies told the village's Planning Board last week it is in contract to buy the space that is partially occupied by Party City and was home to Modell's Sporting Goods at 162 Main St. Its conceptual plan is to turn it into medical offices.
Umberto Annunziata, development manager for Simone, said the company specializes in acquiring and repurposing vacant commercial and office space into medical and health care facilities, retail and in some cases housing. It owns and operates about seven million square feet of space in the tristate area, including the Boyce Thompson Center in Yonkers and the Purchase Professional Park in Purchase.
Recently, it converted 63,000 square feet that had been an Ocean State Job Lot in Centereach, Suffolk County, into medical space for Catholic Health, Annunziata said. Other medical entities it has worked with includes Montefiore, Northwell Health and Mount Sinai in addition to Catholic Health.
"We're excited to work on this project with the village and potential tenants to revitalize this property along Main Street," Annunziata said.
There is no prospective tenant and it isn't known what types of medical uses could move in, although it would predominantly be offices where appointments would be needed, said Brad Schwartz, an attorney representing the potential applicant. At the start, Party City would remain in the space it currently occupies and the space that is now vacant would be converted, he said.
As a result, Schwartz said his client would require approvals for site plan, change of use and a special permit from the Planning Board. An area variance would also be needed from the Zoning Board of Appeals to allow for medical offices on the ground floor, he said.
"So we think this is a great opportunity to restore, once again, a partially vacant building to a productive, active use along Main Street," Schwartz said.
Modell's vacated its roughly 16,000-square-foot portion of the 22,600-square-foot space in June 2020, about three months after the company declared bankruptcy. Before the sporting goods chain arrived, the space was empty for more than five years after Borders declared bankruptcy in 2011 and left later that year.
The conceptual plan drew mixed reaction from the Mount Kisco Planning Board last week. Board member William Beltran said he has a hard time envisioning such a visible space in the heart of the village's downtown to be the site of a medical facility.
"I just think there are so many other spots for medical offices," Beltran said. "There's so much out there. That particular spot it doesn't make sense, but a lot of people are walking around, lots of families. To me it doesn't make sense."
However, board Co-chair Michael McGuirk suggested that it could work, and it might be beneficial to have that space full rather than having long stretches of inactivity.
"Certainly, Mount Kisco is a medical destination village, as it stands, at least for people that I know in Westchester and the region," McGuirk said. "Many people come to Mount Kisco to get care at the hospital and the other providers."
Schwartz mentioned that it could also be a boon for some of the local businesses because there would be a consistent flow of people going in and out of the site who might look for a place to eat or shop.
"So it does help with the vibrancy of the downtown," he said.
One key issue the board would have to carefully examine is parking. With an estimated 25 to 35 employees at the site and projected office hours of 8:30 a.m. to 6 p.m. on weekdays, the roughly 50 spaces in the municipal lot facing the back entrance may be inadequate.
Board member Crystal Pickard said she was concerned about a medical facility overwhelming the area's parking.
"If it's going to spill out onto the street, it's going to take over the lot, and that's going to end up hurting the businesses downtown because people who are going to lunch aren't going to find parking," Pickard said.