Developer Files Suit Against No. Castle Over Armonk Sq. Changes
We are part of The Trust Project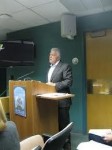 Controversial Armonk developer and resident Michael Fareri filed an Article 78 last week against the Town of North Castle claiming certificates of occupancy for Armonk Square were issued despite unauthorized changes to the project.
Fareri, who owns property on an adjacent Maple Avenue parcel, argued in the litigation that was filed in state Supreme Court in White Plains on July 3 that a restaurant now occupies 3,500 square feet originally earmarked for retail and the mezzanine at DeCicco's Family Market that was supposed to house offices now has a cafe and bar and bocce court.
As a result, calculations for parking, sewer and water that were made during site plan review are wrong, which threatens to negatively impact the rest of the hamlet's downtown.
"The changes added some 8,000 to 9,000 square feet of restaurant and public accommodations to the development, which were never considered in determining SEQRA, traffic, adequate parking, water or sewage capacities," the Article 78 read in part.
By allowing the restaurant, an Italian eatery named Fortina, to open instead of retail along with the addition of DeCicco's upstairs facilities, another 48 parking spaces are required on top of the 168 spots that were agreed to during the town's review, the petition stated.
After close to 30 years of fits and starts, Armonk Square partially opened last month with the supermarket and restaurant. Construction is continuing on the smaller retail spaces and apartments.
In the document, Fareri, whose limited liability company 37 Maple, LLC is the petitioner of record, asks the court to refer the matter back to the North Castle Planning Board for appropriate action "to address the unauthorized and improper changes to the approved site plan."
Additionally, Fareri argued in the petition that the elevation of Armonk Square's Building C, which houses the restaurant and supermarket, was changed from the approved plans, requiring the installation of steps to gain entrance along Maple Avenue. Therefore, the sidewalk needed widening, causing the elimination of parking along Maple Avenue and the narrowing of the road.
Messages left on Monday for Town Attorney Roland Baroni were not returned.
This is the second time that an Article 78 has been filed on Fareri's behalf relating to Armonk Square. Shortly after site plan approval in October 2011, Fareri sought an annulment and reversal of the approval and special permit by contending that the developer sidestepped state mandated environmental reviews. The town's motivation was to rush through a reconfigured plan that included a supermarket in reaction to the pending loss of the A&P, the previous Article 78 contended. Fareri eventually withdrew the action.
Fareri has had an application for a supermarket on a portion of his property on Business Park Drive. However, opponents lined up against that plan arguing that it would draw shoppers away from Main Street.