Dental Practice Proposed to Occupy Former Pleasantville Pharmacy
News Based on facts, either observed and verified directly by the reporter, or reported and verified from knowledgeable sources.
We are part of The Trust Project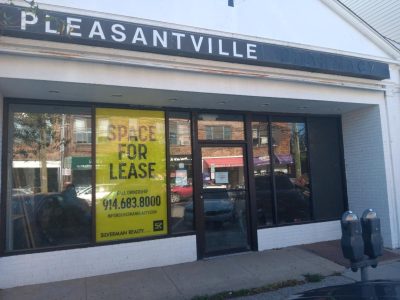 Two years after Pleasantville Pharmacy closed its doors, a new dental practice is expected to open in half the space that had been occupied by the well-established anchor store.
The dental office at 62 Wheeler Ave. will be run by Dr. Rahul Kallianpur, a Sleepy Hollow resident who currently practices general and cosmetic dentistry at Brookside Family Dentistry in Chester, Orange County. He is known for specializing in dental implants and cosmetic dentistry, according to Brookside's website.
Mamaroneck-based property owner Illy Holdings, LLC would be renovating the space.
"There will be two separate entrances and the left side will be vacant," said Pleasantville Building Inspector Robert Hughes. "He (Kallianpur) wants his practice to be a downtown storefront."
The space was previously divided into two stores, but Pleasantville Pharmacy took over the adjacent storefront in 2000 to occupy a total of 4,000 square feet.
The popular pharmacy opened its doors in 1971 and operated in the heart of the village's downtown business district for a half-century before abruptly closing its doors in August 2021. Since then, the store has been empty.
The dental practice will include five examining rooms, an office, a consultation room, a photography room and a digital printing area, according to the application submitted to the Pleasantville Planning Commission. One possible name for the practice, Hudson Dental Company, and it would specialize in cosmetic and comprehensive dentistry.
A Zoning Board of Appeals public hearing was held for Kallianpur's application on July 27. The application was previously reviewed at two different Planning Commission meetings in May.
In a letter that accompanied the application, Kallianpur stated that during the first year the practice will include himself, an office manager, an assistant and one hygienist. Beyond that first year, the practice is expected to grow to two hygienists, two treatment coordinators, one manager and two dental assistants along with Kallianpur. Appointments can range from one to two hours and Kallianpur plans to "offer a car service to circumvent any potential parking issues with village meters."
The application is tentatively scheduled for a final approval vote before the Planning Commission on Sept. 13. It is unclear how long work it would take after an approval until the office could open.