Democrats Select Board Running Mates for Puglisi
We are part of The Trust Project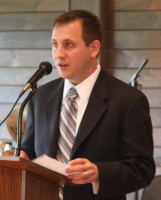 The daughter of a former councilman and a former party chairman were selected by the Cortlandt Democratic Committee last week to run with incumbent Supervisor Linda Puglisi in November.
Debbie Costello, whose father Edward Carter served on the Town Board and owned a successful funeral home in town, and Seth Freach, who served as chairman of the Democratic Committee for four years, outlasted three others who were interested in the two open board seats that are being vacated by longtime councilpersons John Sloan and Ann Lindau Martin.
Puglisi, who will likely run unopposed again as she runs for her 12th two-year term, noted it will be the first time in 20 years that the Town Board race won't feature any incumbents.
"It's totally different for me. Democracy in action," Puglisi remarked Saturday at the opening ceremonies for the Cortlandt National Little League season in Montrose.
Costello, who is currently employed by TDX Construction Corporation, is founder of the Hendrick Hudson Leos Club and serves on the Westchester County Youth Board. Freach serves on Cortlandt's Parks and Recreation Advisory Board and is a former Little League coach.
Before Costello and Freach go before voters in November, they may have to gain the support of registered Democrats in town during a party primary in September as Brian Pugh, who sought the Democratic Committee's endorsement for the Town Board, said he plans to take his message beyond the 30 committee leaders who bypassed him.
"I don't see how the votes of 30 people should represent who should represent 40,000 residents in Cortlandt," Pugh said. "I definitely feel like I should have been one of the candidates. We have a great community and I want to make sure it's affordable in the future."
Pugh, 26, who works for a solar energy company in Westchester and is seeking a law degree at Fordham University, stressed he has admired the forward-thinking and success of Cortlandt government under Puglisi and would like the chance to give back.
"Cortlandt has been a leader in many regards and I want to be part of that success," he said. "I think I would be a constructive addition."
To force a primary, Pugh needs to obtain at least 500 signatures from registered Democrats in Cortlandt by July. He also mentioned he would be seeking a cross endorsement but does not feel a candidate running solely on a third party line would be successful.
The Cortlandt Republican Committee is publicly seeking interested candidates for all offices.