Democrats Schumer, DiNapoli and Other Local Politicians Deny Astorino Endorsements
We are part of The Trust Project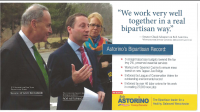 The following is excerpted from a press statement released Saturday, Nov. 2 in which democratic officials claim their quotes were used in misleading ways to appear as candidate endorsements:
United States Senator Chuck Schumer and New York State Comptroller Thomas P. DiNapoli expressed outrage today after Republican Rob Astorino pretended to have their endorsements. They were joined by two Westchester County Legislators (Kaplowitz and Perez).
"I am supporting County Executive candidate Noam Bramson one-hundred percent, and am urging Westchester County voters, of all parties, to support him," said US Senator Chuck Schumer.
"The Astorino campaign's mailing was underhanded, dishonest and done completely without Senator Schumer's knowledge. It tells you all you need to know about the character of those that approved it. Just like the bludgeon politics of government shutdown practiced by their Tea Party compatriots in DC, it won't work.  The truth is voters are smart enough to know that Senator Schumer is supporting Noam Bramson for Westchester County Executive," added Schumer spokeswoman Meredith Kelly.
"This Republican campaign literature misleads the voters of Westchester County into questioning who I am supporting for county executive," said New York State Comptroller Thomas P. DiNapoli. "I want to set the record straight. I strongly support and endorse Noam Bramson for Westchester County Executive. Noam is an honest and dedicated public servant. He is willing to make the difficult decisions required of a true leader to rebuild the economy and strengthen local communities. Move Westchester in the right direction this Tuesday and vote for Noam Bramson and the Democratic slate on Tuesday."
In a joint statement, Democratic County Legislators Mike Kaplowitz and Virginia Perez also condemned Astorino for pretending to have their support. "We practice bipartisanship and believe in working with everyone, but Rob Astorino has crossed the line. We did not give authorization to use our pictures and our words on this campaign mailer. Let us make this very clear: We're proud to support Noam Bramson as our next County Executive."
The Astorino campaign has been censured 12 times by the Fair Campaign Practices Committee for making untrue statements during this campaign. Seven of those unfair practices by the Astorino campaign were determined late last week and were announced on October 31. In large part these unfair practices intend to imply a negative attitude toward veterans concerns by the Bramson campaign.