Democratic Mt. Kisco Mayoral Hopefuls Make Their Case in Forum
News Based on facts, either observed and verified directly by the reporter, or reported and verified from knowledgeable sources.
We are part of The Trust Project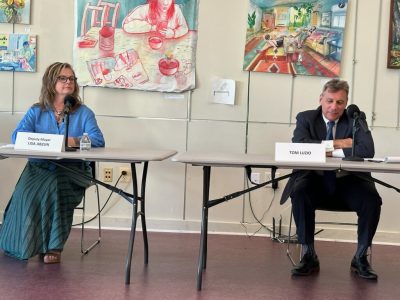 The Democratic candidates in the upcoming Mount Kisco mayoral primary both highlighted why they would be best for the post and cited their top priorities during a League of Women Voters forum last week.
Thomas Luzio, who received the village Democratic Committee's endorsement earlier this year over current Deputy Mayor Lisa Abzun, said he would like to see a much stronger ethics code instituted and have town government exhibit greater transparency and more effectively communicate with residents.
Abzun, a lifelong Mount Kisco resident, emphasized her years of volunteer service to the community and strong understanding of the village and its people.
The hour-long forum on May 31 drew a robust crowd to the Mount Kisco Public Library's community room. Both candidates were posed the same 14 questions by moderator Susan Polos, questions that had been submitted by village residents in advance. Luzio and Abzun also delivered brief opening and closing comments.
"I understand and know the history, and like you, I understand the history is dynamic," Abzun said. "My care and concern for the people of this village runs deep, working hard and creating opportunities for the people of Mount Kisco for over 30 years. Whether you are a longtime resident or newly arrived to the village, I am committed to serve the entire community equally."
Luzio, an eight-year village resident and longtime assistant district attorney, including more than 20 years in Westchester, spoke of his professional background, which includes working under both Democratic and Republican district attorneys. During his time in the D.A.'s office, Luzio said he has also helped with tasks such as pursuit of grants and other administrative functions that would help him if elected.
"I got involved in this race in a way that a person ought to get involved," Luzio said. "I signed a petition in Leonard Park about not siting the cell tower there and I just kept on getting more and more involved."
Luzio said he would fight to preserve the roughly 66 acres of Mount Kisco greenspace from development. The village is three times more developed than some of its neighbors, he said.
Despite his opposition to the village exploring relocation of the proposed cell tower from South Bedford Road to Leonard Park, he's not against towers in general.
"If it's necessary for communications, if it's necessary for 911, if there are significant gaps, we have to consider alternate locations, but I don't want to ever consider, if possible, greenspace to use for those," Luzio said.
Abzun maintained that the Village Board's exploration of possibly alienating a piece of land at Leonard Park has been misrepresented by many residents in the village. The board took about a year to speak with experts and lawyers before abandoning that possibility, she remarked.
"We listened to what you were saying when you would show up, and at the end of 12 months we needed to make a determination," Abzun said. "Could we come to consensus, and the determination was we could not come to consensus, and so we just needed to decide we were going to let that go."
Abzun said she continues to support eminent domain proceedings or a purchase of 180 S. Bedford Rd., the 25-acre parcel that is the subject of two controversial applications – for a cell tower and solar farm. However, she said the village should not pay more than fair market value for the property.
Luzio mentioned that he hopes it isn't too late to acquire that property and would be in support of using Open Space Fund money if it could be obtained.
Abzun said two of her biggest priorities would be to follow through on the goals of the Comprehensive Plan and to keep pedestrians safe in one of the most pedestrian-centric communities in northern Westchester. In her 18 months on the board, she said she has worked with state transportation officials and the county to find solutions to dangerous areas for residents and visitors to the village.
On multiple occasions during the forum, Luzio pressed how he would look to strengthen the village's ethics code, including financial disclosures for village officials, and greater transparency.
In the district attorney's office, the highest standard of ethics was routinely expected, he said.
Ethics has been an issue after two former Planning Board members were ensnared in controversies over the past few years.
"I can't stress this enough," Luzio said. "I've lived under this my entire career, 30 years, 30-plus years I've lived under that same mantra, and I've handled 50,000 cases, probably, over 31 years and all under that very strict code of ethics. I mean, I think we have to show there's no appearance of impropriety that there's no favoritism."
Abzun said she has been a proponent of Mayor Gina Picinich's proposed Accessory Dwelling Unit legislation that could increase housing stock that's more reasonably priced for seniors and younger residents while giving homeowners a chance to generate additional income.
"I don't think this will do away with single-family zoning," Abzun said in response to the question of whether it could result in that zone's elimination. "The ADU legislation is a tool, is a way for single-family homeowners to allow them to utilize their property in a little different way, and it's also potentially a way to offer our workforce, our teachers, our volunteers, young people and seniors a way to have more affordable housing in our community."
Luzio said he could get behind the legislation if it does not threaten the single-family zones.
"If they choose to live in a single-family occupancy neighborhood, maybe we're not listening to that neighborhood as clearly as we should when we're taking about rezoning," he said. "It's a matter of communication, the way I see it."
Primaries throughout New York State will be held on Tuesday, June 27. Early voting will be held from Saturday, June 17 through Sunday, June 25.