Democrat Pauses Campaign to Challenge Bowman Until Latimer Decides
News Based on facts, either observed and verified directly by the reporter, or reported and verified from knowledgeable sources.
We are part of The Trust Project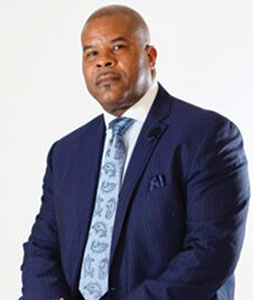 One of two Democrats who announced they would challenge Rep. Jamaal Bowman (D-Yonkers) for the party's nomination next year, has paused his campaign until Westchester County Executive George Latimer decides whether he will enter the race.
Michael Gerald, a Tuckahoe pastor, said he will only resume his campaign in the 16th Congressional District and seek to force a primary if the race doesn't include Latimer. The district includes White Plains and all of southern Westchester and a small portion of the northern Bronx.
"There is a hunger for a different kind of leader for us in Congress, that is clear," Gerald said in a statement last week. "Jamaal Bowman is just not delivering for his constituents. In 2022 Bowman only secured $5 million for our district, while his neighboring freshman colleagues Ritchie Torres and Mondaire Jones brought home $10 million and $8 million, respectively. If George runs, he would be fantastic. If he does not run, we will be full speed ahead."
Last month, Latimer, who is term-limited in the county executive's office when his second term ends at the end of 2025, said he had been asked to enter the fray but would make no decision until the state's ongoing redistricting battle has been completed.
Gerald, who entered the race in August, said Latimer's experience and dedication would be a valuable asset.
"Our district, like many others, has experienced a turbulent period with the recent events in the Middle East," he said. "The safety and concerns of our constituents are of paramount importance. I believe that George Latimer's leadership and his ability to navigate complex issues will serve the residents of NY-16 exceptionally well during these challenging times."
The other announced candidate in the race, Marty Dolan, said he had no plans to stray from his campaign regardless of the decisions by Gerald or Latimer.
Dolan, a Dobbs Ferry resident, said he wasn't surprised by Gerald's decision since he didn't regard him as a serious candidate.
"There are no changes to my plans," Dolan stated. "I will beat Bowman wherever the district lines are drawn and have shown the leadership which has further forced Latimer's hand."
Many moderate Democrats have voiced displeasure with Bowman for some of his votes, including opposing the $1.5 trillion infrastructure bill and having been aligned with the Democratic Socialists of America, where some members have participated in pro-Palestinian protests and marches since the Hamas attacks on Israel last month.
The key fight for the district now, according to Dolan, may take place in the courts and with the Independent Redistricting Commission. He said there is one plan that divides Westchester County among the 14th, 16th and 17th congressional districts.
The plan that would remove Greenburgh, White Plains and Scarsdale from the 16th district and join them with Rockland County in the 17th Congressional District. Then the 14th Congressional District would be brought up to represent the Sound Shore communities.
The rationale for this would be to remove as many Jewish voters as possible from the 16th Congressional District to help save Bowman, Dolan said.
In the weeks since the Hamas attacks, Bowman has been apparently trying to rehabilitate his image with some of those voters. In a press release from his office on Monday, Bowman touted the "Healing Breakfast: Fighting Antisemitism and Hate" that he held to hear the concerns of constituents who were nearly entirely Jewish
Ken Jenkins, Latimer's deputy county executive who also chairs the Independent Redistricting Commission, said the references that have been made to the 14th Congressional District, a seat currently held by Rep. Alexandria Ocasio-Cortez, in areas of southern Westchester, is from old maps that were rejected by the state legislature.
After the Democratic legislature redrew the maps, the Harkenrider v. Hochul lawsuit ensued, which claimed the districts were gerrymandered and the legislature lacked the authority to devise and enact its own plan.
A special master was appointed and drew the maps that were used in the 2022 elections.
Arguments are scheduled for Nov. 15 in the state Court of Appeals in Buffalo in another suit, Hoffmann v. Independent Redistricting Commission, which contended that the commission needs to finish its work and submit another set of plans.
Depending on that outcome, either the 2022 districts will hold, or the commission will have to go back to work, Jenkins said.
"Anyone who is speculating on the way things may or may not be is very premature because we don't know," Jenkins said.
Corrections:
Sourcing & Methodology Statement:
References: