Defiant Pipeline Protestors Lambast Cortlandt Judge at Sentencing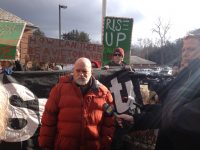 The so-called "Montrose 9" pipeline protestors remained defiant last week as they took turns criticizing Cortlandt Town Justice Daniel McCarthy for finding them guilty of disorderly conduct for blocking access to Spectra Energy's construction yard on Route 9A in November 2015.
The nine protestors could have faced 15 days in jail for their actions, but McCarthy chose Friday to fine each $375 and order them to complete five hours of community service with a volunteer fire department or ambulance corps.
"You can't say a fair hearing was not conducted in this case," said McCarthy, whose written decision last month was greeted with unwelcomed outbursts of "Shame on You" and "No Justice in Cortlandt" by supporters of the protestors.
"I listened carefully to each of your testimony. I respect what you did. I respect your positions," McCarthy remarked as about 100 audience supporters stood up in a sign of solidarity for the "Montrose 9." "I followed the law as I believe it to be."
Susan Rutman, Andrew Ryan, Linda Snider, Michael Bucci, Kim Fraczek, Melissa Freedman, Monica Hunken, George Packard, and Kathleen Thomas all had pled not guilty to the charges as their attorney, Martin Stolar, contended their actions were justified since they were trying to stop a greater harm in the expansion of the natural gas pipeline on November 9, 2015 at 6:30 a.m. and were left with no other recourse after all legal and regulatory options had been exhausted.
Stolar filed a motion requesting McCarthy dismiss the case in the interest of justice but was denied. Following Friday's sentencing, Stolar said he had filed a notice of appeal with the state Court of Appeals in a last ditch attempt to reaffirm his client's necessity defense.
It took McCarthy four months to issue his decision following the conclusion of a trial which Stolar and the "Montrose 9" were hopeful would become a landmark case using their defense in environmental litigation.
"I was hoping you would rule in our favor. I was looking for judicial relief, judicial protection," Bucci said to McCarthy before his sentencing. "You let us down. You let our community down. Democracy has failed us here."
"I spent the holidays in a very sad state thinking I was found guilty for something where I was trying to do a positive thing to stop a disaster," Snider said.
Hunken said she opposed the pipeline in honor of her late father who died from the effects of fracking.
"If we do not stand up against corporations, they will mow us down," she said in a powerful statement to McCarthy. "We cannot allow corporations to treat us as if we are sacrificial zones. I hope one day you realize we did this for you and your family."
Fraczek told McCarthy she was "disappointed" with his decision and suggested her appearance in court may not be her last.
"We opened up the community to this danger. We informed you of this danger," she said. "This is not going to end. We are committed to stopping the pipeline. You may see us again."