News Based on facts, either observed and verified directly by the reporter, or reported and verified from knowledgeable sources.
Dain's Lumber Going Strong After 175 Years of Operation in Peekskill
We are part of The Trust Project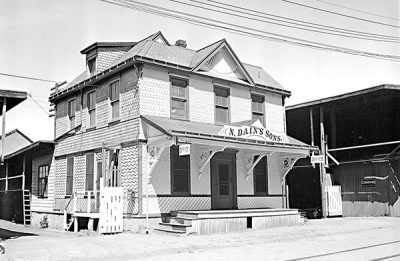 Located along the Hudson River in Peekskill, Dain's Lumber is one of the country's oldest retail lumberyards.
Founded in 1848 by Nathaniel Dain, the company has been owned and operated by the Dain family from before the Civil War through two world wars and the Great Depression and into the new millennium.
Current company president James Dain is a sixth-generation family member and leads the company with his wife, Megan, who serves as vice president. Dain explained that his great-great-great-grandfather, Nathaniel Dain, purchased a half-interest in a lumber and building materials company from John Ombony, and the company became known as Ombony & Dain.
In 1875, Nathaniel Dain bought controlling interest and went into partnership with his two sons, changing the name to N. Dain & Sons. The business held that name until 1952, when it was incorporated under the name N. Dain's Sons Company, Inc., which it officially remains today.
Dain said Nathaniel Dain invested in the lumber industry because "Peekskill was a major industrial hub to the Hudson Valley in the 1800s. There were various manufacturing and commercial businesses scattered throughout the beautiful riverfront that we know today."
As you might expect, the company and the way it does business have evolved and changed considerably since then.
"In the 1800s, we delivered materials primarily by horse and carriage and by ship," Dain said. "This little schooner was named Annie and would deliver product up and down the Hudson. We now offer delivery services, including two flatbed trucks with forklift unloading, two dump body flatbeds, one box truck and a rack body pickup truck for smaller deliveries. The evolution of logistics has changed quite a bit."
There have been changes on the customer side of the business, as well.
"I've seen a shift in the homeowners-to-contractor shopping ratio," he noted. "Homeowners, now more than ever, are purchasing materials directly and want to be involved in the product selection process for their project. This has a lot to do with advancements in technology, with so much information at your fingertips."
According to Dain, the company's most challenging time occurred more recently, relatively speaking, suffering a devastating fire at its original location in 1989.
"It destroyed all of our original records as well as all on-hand inventory, accounts receivables and payables," Dain said.
The company president at the time, Jeffrey Dain, moved the business 200 yards down the street to 2 North Water St. just days after the fire and restarted the business with just two flatbeds, no inventory and almost no record of outstanding balances, Dain said.
"And here we are standing today!"
Not surprisingly, a company of this age and stature has had its share of high-profile projects over the years. Dain's Lumber was involved in construction at West Point in the 1800s, supplying lumber and other masonry products, he said. Two other jobs included Camp Smith and Indian Point.
Despite its age, the company shows no signs of slowing down anytime soon. In fact, Dain's Lumber recently acquired property in Cold Spring that is being developed as an additional storage yard for materials, Dain said. It could also serve as a potential retail site in the future.
Speaking of the future, where does Dain see the company in another 175 years? "My hope is that we can get to the next generation," he said. "It's a miracle that we've been able to survive this long as a small family business."