Czernyk to Travis TD Leads Fox Lane to Upset of Mahopac
News Based on facts, either observed and verified directly by the reporter, or reported and verified from knowledgeable sources.
We are part of The Trust Project
Somers vs. Yorktown & Westlake vs. Haldane #WorldsWillCollide Week 7
By Ray Gallagher, Examiner Sports Editor @Directrays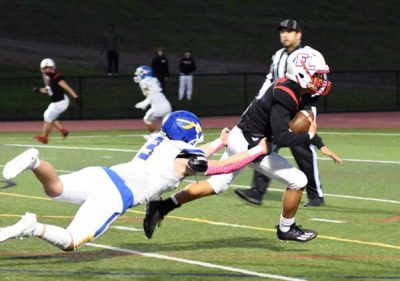 It was supposed to be a ho-hum week of action on Examiner-area gridirons with the favorites winning comfortably on Friday and Saturday, but the big surprise of the week came out of FOX LANE Friday night when Coach Andrew Giulaino's Foxes (3-3) scored on a last-minute TD pass from junior QB John Czernyk (14-25, 125 yards) to senior WR Max Travis with six seconds left for a 10-7 win over visiting MAHOPAC, which put its postseason hopes on life support should 'Pac fall to Brewster Friday.
"It's a statement win for the program," said Giuliano, the third-year coach. "We are excited, the kids are excited, the community is excited. Defense has been our strength all year and it continued to be on display again shutting them out on the defensive side of the ball."
It's been a long haul for the Foxes, who have had some seriously lean years since former Coach Bill Broggy called it a career.
"We are extremely proud of our young men," Giuliano said. "They played until the very end and believed in themselves, which is the mindset we are striving for: Confident young men who believe they can do great things. Wins like this help reinforce that. I am extremely proud of my coaching staff.  Countless hours go into this and when kids buy in, it is the ultimate reward as coaches. My staff is outstanding in not only teaching these kids but connecting with them beyond football. This win shows the growth we have been striving for. It was a big win not only because we needed it, but it was just huge in the fashion it was won."
In the end, Fox Lane had a huge stop, which forced a field goal attempt that was blocked by Carlos Monroy, a huge addition to the team.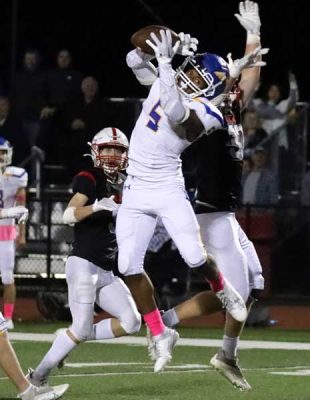 "The block started it all, which was done by senior Carlos Monroy, who blocked it, and caught it, and after that our John Czernyk was like a general, leading the team down the field with 1:30 or so and one timeout, which ended with him throwing an 18-yard TD pass to Max Travis. John was thumped around all day and never quit. Nobody is tougher than that kid, and this is the type of win he needed. So proud of him."
On the final drive, Czernyk took the team 81 yards with 1:30 left and one timeout. He was 6 of 9 and added a 12-yard scramble with 62 of his 125 passing yards on that drive.
Early in the game, Fox Lane drove down to get a first and goal and ended up kicking a FG to go up 3-0, but Mahopac speedster Danny Koch returned the ensuing kickoff for a TD and a 7-3 WolfPac lead.
"That Koch kid is an athlete and we just lost our contain," Giuliano admitted. "Immediately, I had the feeling that this can't be us again (not scoring a TD after having first and goal and then giving up a huge TD). I gathered the entire team together and let them know that this was not going to be us tonight, that this stuff is over. Boy, they responded. Much respect to Mahopac. We know they are a good ball club, they have beaten some quality teams this year, so this win was big."
It was just as big a loss for state-ranked (No.16) Mahopac (4-3), who didn't bring their A-game, according to Coach Dominick DeMatteo, and won't see the light of day when it comes to the state rankings the rest of the way.
"Bottom line, Fox Lane played very good," the coach said. "They should be commended for that".
The WolfPac need to regroup in a major way this week to help lay a lasting foundation for this season and the next few years. The effort and execution against Fox Lane was subpar, to say the least.
"Based on our practice week, I would say we did not overlook Fox Lane," DeMatteo said. "However, based on the way we played you could wonder if that was not the case."
The Fox Lane defense was stout led by Brian Bailey and James Minotti once again.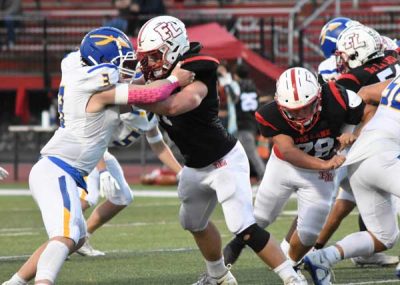 "Having two guys like that flying around is what makes our defense so good," Giuliano said.  "Brian is such a force up front and James has been tremendous in commanding his assignments and making sure his teammates do as well.  This is all good, we are all enjoying it, but the best thing about Team 67 (67th team in FL history) is they know the job is not done yet.  We need to beat Cross River and almost immediately that was on their minds. A win like this certainly helps our goals. We just can't lose our focus on what's ahead. In my college days at Cortland my head coach would say, 'keep your forks cause the best is yet to come'.  We are holding our forks because we plan to be the best version of Fox Lane football we can be in the weeks ahead."
Fox Declan Connors carried 16 times for 68 tough yards and added three grabs for another 20.  Minotti (6 rec., 62 yards) and Travis all had nice nights
On defense, Fox Lane sophomore Luke Ryan (13 tackles, 2 for loss) and Minotti (10 tackles, 1.5 TFL) led the way.
Around the Section:
Sticking with CLASS A, SOMERS has probably never had an easier time with longtime rival John Jay CR than they did in Friday's 38-3 romp of the visiting Wolves, who have fallen on hard times when measured against the lofty standards set by former longtime Coach Jimmy Clark.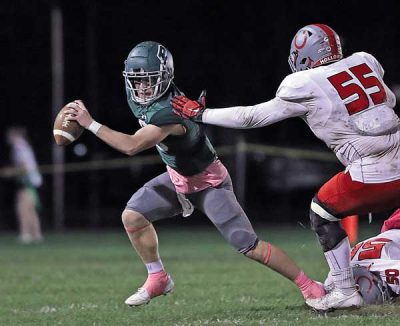 Tusker senior QB Mac Sullivan hit on 11 of 18 passes for 148 yards and two touchdowns before easing off the pedal. Big Mac rushed for another 52 yards on three carries and felt pretty chill with handing off to Somers RB Mason Kelly, who had himself a career day (115 yards, 3 TDs on 19 carries). Somers sophomore RB Dean 'The Dream' Palazzolo added four grabs for 52 yards and WR Andrew Kapica snagged three grabs for 60 yards and a TD while Nick Conti added two receptions for 19 yards and one touchdown.
It was business as usual for the state-ranked (No.1) Tuskers (6-1), who now take aim at state-ranked (No.7) arch-rival YORKTOWN, in a winner take all battle for the No.1 seed in the upcoming sectional tourney.
The undefeated Huskers (7-0) made short work of BREWSTER in a 37-6 triumph of the Bears (2-4), who will find it tough to crack the eight-team playoff field with a make-or-break Week 7 match with host Mahopac.
Yorktown QB Kaden Gonzalez zipped 16 of 25 passes for 178 yards and two touchdowns while RB Dylan DelVecchio rushed for 82 yards and two TDs on 16 carries. Versatile Chris Constantine chugged for 56 yards on 16 carries and reeled in six passes for 82 yards and a score while adding five sticks on D. Husker WR Tommy Costello hauled in another five catches for 48 yards and one TD.
The host Huskers will need every ounce of that and then some against the speed and depth of the reigning two-time champion Tuskers Friday night when #WorldsWillCollide at 7 pm at The Murph. There ain't a soul willing to provide bulletin board fodder, so that's all we got #GimmeTheTuskers!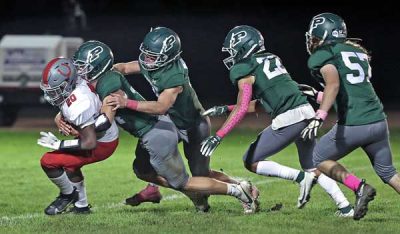 "Our team just continues to take things one game at a time," Husker Coach Pantelis Ypsilantis said. "We don't care who the opponent is, our preparation and attention to detail does not change. Our kids are extremely coachable and intelligent football players who have executed our game plans and continue to stay humble and hungry throughout the process. Consistency is key and we are trying to continue to stay consistent and focused."
Defending Section 1 Class C champion WESTLAKE edged visiting Dobbs Ferry, 8-0, in a rematch of last season's Section 1 title game, scoring on the game's opening drive when senior RB Chris Kalle powered in from three yards out with 7:24 remaining in the first quarter. It was a defensive struggle from that point forward on a rain-soaked turf.
"Our defense is a really solid group, the main reason we are 5-0," Kalle said of the state-ranked (No.5) Wildcats. "However, we haven't played near our best football, there is still a lot of work to do. We haven't clicked on offense yet, but when we do we will be a tough team to stop."
CLASS B has eight critical games this weekend, all with playoff implications: Rye vs. Sleepy; Lakeland vs. Byram Hills; Pleasantville vs. Nyack; Nanuet vs. Pearl River; Ardsley vs. Briarcliff/Hamilton; Hen Hud vs. Edgemont; Irvington vs. Hastings; Rye Neck vs. Put Valley.
Undefeated PLEASANTVILLE (6-0), ranked No.3 in NYS, remains the team to beat; in fact, the odds on favorites unless No.13 Rye has something to say about it, which the Garnets often have.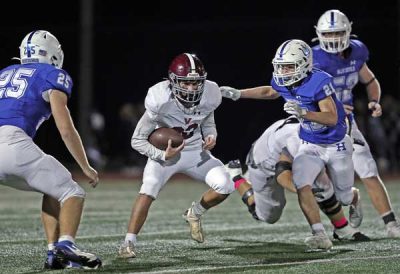 Friday's 46-7 win over Sleepy Hollow has left Coach Tony Becerra's Panthers holding the No.1 seed as they tune up with a regular-season finale against a mid Nyack club this weekend. Nyack will have an as equally tough time as the Headless dudes did when it comes to containing Panther RB/WR Daniel Picart, who ran roughshod over Sleepy, scoring the game's first two TDs for a 12-0 first-quarter lead, including a 66-yard jaunt. This one was over before it started.
Panther Phil Dundee was stud on defense, taking a pick-six in from 40 yards out after recovering a fumble at the Sleepy five to set up a Nick Sdao TD. The Panthers will finish with Nyack before turning their attention to the defense of their two-year championship reign.
LAKELAND (4-3) saved its postseason hopes with a 55-24 rout of Nyack. Hornet QB Grady Leonard hit on 10 of 15 passes for 174 yards, including four TD slings and another rushing score. His main weapons were Sean Perry (6 grabs, 148 yards, 2 TDs), Anthony Frobose (TD catch) and Jake Berlingo (TD catch). Hornet RB Robbie Policastro went for 127 yards and a score on just seven carries. D.J. Brody led the Hornets (4-3, 3-3) with 7.5 tackles and two interceptions, including a pick six.
PUTNAM VALLEY threw a monkey wrench at CROTON-HARMON in a 26-7 win on Senior Night in the Valley. PV came out flat but caught a spark when junior DE Caden Glenn caused a fumble on a near sack and senior DE Alex Gecaj picked it up and returned it for a 65-yard scoop and score TD.
"This play changed the momentum in our favor big time," PV Coach Ryan Elsasser said. "Croton's offense was hitting some big plays taking up chunks of field, and they answered back with a score on a very well executed drive."
From there, PV senior RB Ricky Meister went off in the run game, totaling 154 yards and two TDs on just 15 carries. The beastly Meister added five tackles, one for a loss, forced a fumble and had a big sack.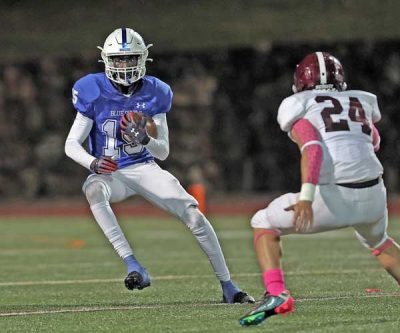 Glenn and Gecaj were a force on both ends of the defensive line. Glenn had six tackles, two TFL, two sacks and a forced fumble. On offense, Glenn added eight carries for 20 yards, a TD and a 2PT conversion. Gecaj had eight tackles, two TFL, and two fumble recoveries.
"These two players set the tone of the game on defense while Meister did the same for the offense," the coach said.
Andre Tarrant (7 tackles, forced fumble) and Mateo Dobra (5 tackles, 1 TFL) were tough on D as well.
"Our offense has been racking up the yardage on the ground," Elsasser said. "Coach DiCioccio (OC) has been pushing the kids really well running the offense. Coach Lapadula (OL/DL) has the offensive and defensive line moving really well this season."
The Tigers (3-2 vs Class B) are in a must-win situation against Rye Neck this week.
Class AA CARMEL, ranked No.22 in NYS, is rounding into form after a 43-6 rout of Yonkers Force, who had no answers for Ram QB Christian Nunez, who completed 9 of 14 passes for 153 yards and three touchdowns strikes, including two to senior WR Damien Santiago (six catches, 75 yards). Carmel junior RB Tristan Werlau rushed for 120 yards and a score on just 12 carries while RB Leo Venables added another 70 yards and a TD. Tamba Kassoh had one rushing TD and Ryan Aabel caught three passes for 61 yards and one touchdown as the two-time defending Section 1 champion Rams (5-1, 5-0) wrapped up the League AA-B title.
"I think everyone is completely bought in now, allowing us to work as one," said Ram senior captain Matt Risley, who made 11 tackles, two for a loss, and forced a fumble. "It's been a ton of fun going out with the guys everyday and working whether that's in practice or on Friday night. It's a great group between the players and coaches, who make playing football so much fun. It is very rewarding going out to work everyday and seeing the results."
The Rams will prepare for the playoffs with a tough game against North Rockland this weekend as they ready for what many assume is an inevitable crash course with state-ranked (No.11) host Arlington on Nov. 11. But that's just speculators putting the #CartBeforetheHorse.
CLASS D HALDANE, ranked No.10 in NYS, is putting together a solid season, one that will ultimately end up in the sectional final game against No.12 rival Tuckahoe, for whom they prepared for with a 15-6 win over state-ranked (No.14) Class C VALHALLA. QB Ryan Van Tassel chugged for 81 yards and one touchdown on 12 carries and fired for another 60 yards and a TD pass to RB Evan Giachinta (77 yards on 12 carries, 2 catches, 31 yards).
The Big E, Erik Stubblefield, dominated on defense, getting in on 12 tackles and a sack for the Blue Devils (5-1).