Cutting-Edge Exhibit on Holocaust, Identity Opens at White Plains HS
News Based on facts, either observed and verified directly by the reporter, or reported and verified from knowledgeable sources.
We are part of The Trust Project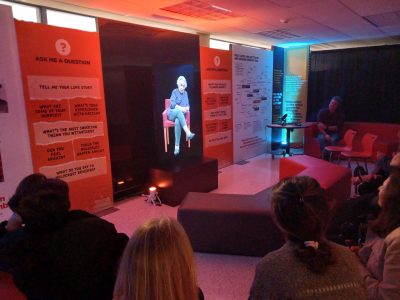 Curriculum demands on students and budgetary limitations on school districts sometimes make seemingly worthwhile trips to museums and other cultural institutions difficult to achieve.
White Plains Public Schools did the next best thing – it brought an innovative exhibit to engage high school students into the high school.
In a partnership between the district and Common Circles, an organization established by Marla Felton and Sue Spiegel with a mission to increase empathy, reduce bias and inspire students to take action through art and technology, the exhibit "We Are White Plains: Bridging, Belonging, & Building Community" debuted at White Plains High School.
It contains two distinct components: an interactive portion that allows students to have real-time conversations with Holocaust survivors and other witnesses to genocide and a striking photo exhibit by world-renowned New York City-based artist and photographer Bayeté Ross Smith that forces visitors to confront their pre-conceived notions of how they see people of different backgrounds.
"This is the first time this cutting-edge technology has been integrated into the curriculum of an entire school district," Felton said. "The We Are White Plains exhibition is just the start of what we hope will return to White Plains to be a model for schools around the nation."
Last Friday's ribbon-cutting ceremony at the high school, which came four days after the exhibit opened to students, was attended by a wide-range of dignitaries and elected officials, including Lt. Gov. Antonio Delgado.
Delgado stressed how it's important for each generation, including today's parents, to take on the responsibility of teaching the next generation through education, understanding and setting the right example.
"When you see the rise of anti-Semitism, the rise in hate and bigotry, it's all the more important through the lens of a father that we do everything in our power to be there for our children, to set the right examples, empower them with information and the truth so that they can bottle up the life that's already in them and be agents of goodwill," said Delgado, the father of nine-year-old twin boys.
Students and visitors have real-time conversations through pre-recorded interviews with 97-year-old Holocaust survivor Anita Lasker-Wallfisch, who was able to make it through the horrors of Auschwitz mainly because she was a cellist, and American World War II veteran Alan Moskin, who was part of the company that liberated Gunskirchen Concentration Camp in May 1945.
About 2,000 questions were posed to the subjects, and through Artificial Intelligence, the technology was able to skip to the relevant portion of the interviews based on someone's question.
Felton said that the feature is so engrossing that students were finding free time to learn more about Lasker-Wallfisch's and Moskin's stories.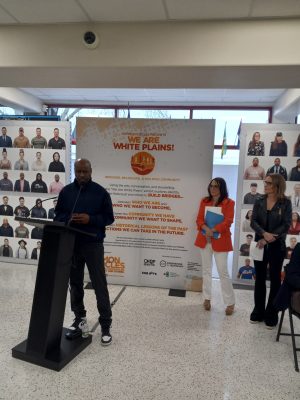 "One thing that has blown us away is that after visiting the exhibit with their classes, many of the students have returned to our Dimension and Testimony Room (just off the school's library) to hear more," she said.
Ross Smith's photo exhibit took images of 44 different people in and around White Plains, including many local government and school officials and others in the community, each in a series of six photos wearing a different outfit in each image. What a person is wearing in relation to the age, race, gender and other factors can test even the most fair-minded person.
"This is to get us all to think about how we think about one another, where our potential blind spots are," he said.
In a politically polarized time with unrest on the rise around the world, White Plains Superintendent of Schools Dr. Joseph Ricca said the district is grateful for the opportunity and jumped at the chance to bring the exhibit to the school when approached by Common Circles and longtime city resident Ellen Berger.
"Any instance of hatred, any instance of bigotry, it is all of our responsibilities because the day that we get tired, the day we decide we're not going to get in the fight, is the day that they win," Ricca said.
The exhibit will remain at the high school for about a month before moving to the district's two middle schools, also for about a month each. It may hit the road elsewhere in the state or around the country, Felton said.
"We Are White Plains" will be open to the general public from 3 to 5 p.m. on Thursday, Mar. 23, Tuesday Mar. 28 and Wednesday, Mar 29. For more information, visit https://commoncircles.org/inside-the-experiences.