Crowds Rock Through Heat, Rain at 17th Annual Pleasantville Music Festival
News Based on facts, either observed and verified directly by the reporter, or reported and verified from knowledgeable sources.
We are part of The Trust Project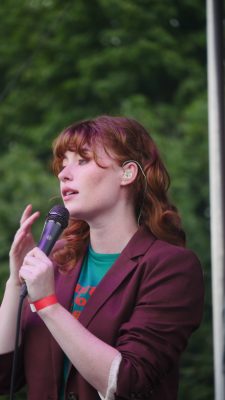 Last Saturday afternoon's weather may not have been what anybody would have drawn up for a successful Pleasantville Music Festival, but it didn't prevent several thousand music lovers and the performers from having a great time.
Despite stifling heat and humidity and a couple of downpours, one of which delayed the festival at 3:30 p.m., organizers were able to get in the full program of 18 bands on three stages. The day culminated with Main Stage headliner They Might Be Giants kicking off their set about an hour later than planned.
"You can't beat Mother Nature, but it actually turned out to be great because we got to finish our set strong and everything worked out," said Patrick Starr, the drummer for the Queens-based psychedelic rock band Blac Rabbit, who had their performance interrupted when the first round of rain swept over Pleasantville's Parkway Field.
It was the first time in the 17-year history of the festival that weather forced a stoppage in the festivities. Bruce Figler, the event's executive director, said the day went as well as it could have gone considering the challenges faced.
"At the end of the day, except for some of the puddles on the ball fields, you wouldn't have known that anything happened that day because the field was full, people are dancing, people were happy and maybe their hair was a little bit straggly," Figler said.
By the time the skies cleared, the best was yet to come. The crowd was wowed by the beautiful vocals of folk singer Allison Ponthier, The Allman Betts Band's hard-driving Southern rock and alternative rockers They Might Be Giants on the Main Stage. Then there was a stirring performance by singer-songwriter Sophie B. Hawkins that packed The Chill Tent with a high-energy audience for the finale on that stage.
"There really was this sense of joy and embracing the music that I felt," Hawkins remarked after her performance.
Throughout the festival, village officials monitored the weather, keeping a wary eye out not only for rain but the threat of lightning. The added obstacle was in addition to the usual issues that need to be addressed, said Pleasantville Mayor Peter Scherer.
More than 300 volunteers helped to make the afternoon and evening run as smoothly as possible, without whom the festival wouldn't have been able to happen.
"This is a big operation and so many moving parts and hardly a half an hour passes without some need to remediate and track and fix and resolve, resolve people's problems," Scherer said. "That what we're here for and what makes for the Zen of the festival. It does leave you a little nervous sometimes."
Whatever challenges organizers faced seemed to be well worth it for the legions of music fans who attended and those who wanted to be part of a special event, both local residents and others from throughout the tri-state area.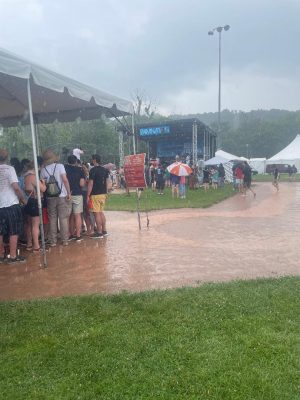 For the second consecutive year, Pleasantville's Jared and Stephanie Bixler came for the day with their two children. They found seats in The Chill Tent, shielded from the sun and the rain and near a couple of fans to help keep them cool.
They weren't there to see any particular band, although they were curious about listening to some performers they hadn't heard before.
"It was just having something enjoyable to do all day," Jared Bixler said. "I guess the kids love it and it's good for all of us."
Paul Smith and his wife Sheila Bonder-Smith of Teaneck, N.J. used to enjoy going to the Clearwater festival, but since that was discontinued, they have begun attending the Pleasantville Music Festival. While Bonder-Smith was looking forward to hearing The Allman Betts Band, her husband said he enjoys hearing lesser-known musicians.
Throughout the day, patrons also had a wide choice of food to eat, could browse through vendors' tents, and if they brought young children, there were activities for them as well.
In addition to the challenges of presenting a smoothly-run festival, for Scherer and Figler, an increasingly difficult factor is the escalating price to secure talent.
While the total cost for the village still needs to be calculated, Scherer said Pleasantville set aside several hundred thousand dollars for the performers this year. Securing Northwell Health as the presenting sponsor last year and having them return this year has been a big help, along with other sponsors, but the goal is for the village to break even, he said.
A band that may have commanded about $25,000 to perform a set five or six years ago now takes twice that amount in some cases to ensure they play, Figler said.
Some of the escalation is due to restrictions placed on bands by promoters who prohibit performers to appear in another venue within a 75-mile radius for a few months, he said.
"So that made it really, really hard this year and it's getting worse and worse," Figler said.
Despite the headaches for a small village to take on such an event, Scherer said it's worth all the work.
"It's such a positive thing for so many people in the community, and it's such a positive thing for the community's recognition in the broader world," he said.