Croton United Announces Slate for Village Board
We are part of The Trust Project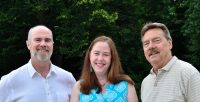 Croton United has announced its Village Board candidates for 2017. Mayor Greg Schmidt and Trustee Bob Anderson are seeking re-election. Joining them is Roseann Schuyler, a local attorney and a co-founder of Croton United.
"Roseann will be a great addition to the Board," said Schmidt. "As a 13-year resident, homeowner, business owner, and mother, she brings a unique perspective and sensitivity to the concerns of our community."
"Croton United is locally focused and community driven," said Anderson. "We're very proud of our record and want to consolidate the gains we've made and build on the momentum of the past two years. We've begun to put our Village on a sound financial footing and have ensured that resident concerns are addressed with practical solutions in an environment of civility and consensus."
Schuyler said, "I'm honored to join Greg and Bob on this year's slate. Throughout my involvement in the public life of the village I've advocated for increased transparency, enhanced citizen participation and taking partisanship out of local government. As a Trustee, I would work tirelessly to ensure the village's continued financial sustainability while maintaining and improving the quality of life for all residents. I will also draw upon my experience as a village business owner to find opportunities to vitalize and strengthen the commercial life of the village."
Ken Walsh, who is stepping down as Trustee at the end of his present term, has been named Chair of Croton United. "I'm proud to be working with such an experienced team," said Ken Walsh. "Together, we can continue to reach out and listen to Croton residents, business owners, committees and organizations so we can implement solutions that continue to make our Village a great place to live, work, and raise a family."
Croton United is a nonpartisan coalition of Croton residents of all political persuasions who have an interest in addressing issues of importance to our village and its future. We believe in the importance of building community through active citizen participation, and welcome diverse points of view. Our organization's core values include providing stewardship to the Donate, volunteer, sign-up for emails at www.crotonunited.org/donate. Follow us on Facebook at www.facebook.com/crotonunited village that ensures its continued financial sustainability, bringing civility and courtesy to the public debate, and ensuring openness and transparency in village government.
Schuyler Bio
Schuyler is a 13-year resident of Croton who has long been involved with civic affairs in the village. She lives in the Harmon area with her husband Peter, and their two children. The Schuylers are partners at Kitson & Schuyler P.C., a general services law firm in Croton specializing in plaintiff's side civil rights litigation, commercial litigation, family law and real estate transactions. The firm has provided pro bono representation to several local organizations such as the Boys & Girls Clubs of Northern Westchester and Croton's Circle School, among others.
She was one of the founders of Croton United in 2014 and has been the organization's chair from its inception until being nominated for office recently. She has served on Croton's Zoning Board of Appeals and as a member of the Parent Committee and Advisory Board of Circle School, has been a volunteer Destination Imagination Team Manager, and is a member of the Rotary Club of Croton-on-Hudson.
Born and raised in the Bronx, she graduated from New York University with B.A. in Urban Public Policy and an M.A. in Social Studies Education. she went on to teach social studies at two New York City public high schools. While teaching she was elected and served as a union delegate to the United Federation of Teachers. After leaving teaching, she graduated from the University of Wisconsin Law School, where she served as an Editor of the Wisconsin Law Review.