News Based on facts, either observed and verified directly by the reporter, or reported and verified from knowledgeable sources.
Croton Democrats Unveil Slate for 2023 Village Election
We are part of The Trust Project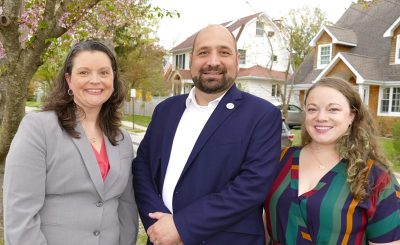 The Croton Democratic Committee last week announced its slate for the Nov. 7 village election, led by Mayor Brian Pugh, who is seeking a fourth term.
Joining Pugh on the ballot will be Trustee Nora Nicholson and Cara Politi. The candidates have also been endorsed by the Working Families Party.
"Brian Pugh's record of results, combined with Nora Nicholson's experience in nonprofit leadership and Cara Politi's commitment to meeting community needs make for a team with the vision and strength to build for our future while controlling taxes," said Democratic Committee Chairman Michael Eisenkraft.
Pugh started his stint on the board as a trustee in 2014. He was first elected mayor in 2017.
"Since I was first elected, I've worked with my colleagues on the board to enact policies that reflect our community's values while remaining under the tax cap: we have completed important infrastructure investments such as the Croton Point Avenue improvement project, we continue to increase renewable energy generation in the village, created a food scrap recycling program and are on track to double our supply of affordable housing," Pugh said.
"Our board has broadened the tax base, developed new non-property tax revenue sources and managed spending and borrowing. Because of this comprehensive approach, we will soon be adopting our first budget in more than a decade without a property tax increase," he added.
Nicholson, who was appointed by Pugh to fill a vacant seat on the board in Dec. 2022, works for Volunteer New York, a nonprofit based in Tarrytown as manager of corporate relations.
"As a board member I will continue to work for village residents to make Croton a welcoming place to live for all of our residents," Nicholson said. "I am particularly interested in protecting and improving the parks as they are such a wonderful resource for the entire community. I also would like to see the Village expand its efforts in safe streets that are bicycle and pedestrian friendly and supporting the vibrant local business community."
Politi moved to Croton in 2017. She is employed as a messaging and communications strategist for a foundation that supports nonprofit social impact organizations.
""I look forward to working with this team to make our village the welcoming and accessible place it can be," Politi said. "From expanding housing options and business opportunities to increasing sustainability and improving communications, this board will be uniquely positioned to make lasting change while living within our means."
Trustee Sherry Horowitz, who has been on the board since 2017, is not seeking reelection.
"I'm proud of what we've accomplished by working together, including securing energy from 100% renewable sources for most village residents through the Westchester Power Program. Now is the time to pass the torch. I look forward to continuing as an engaged citizen and to all that our community will continue to accomplish," she said.