COVID Vaccination Percentages Begin to Accelerate Throughout Westchester
We are part of The Trust Project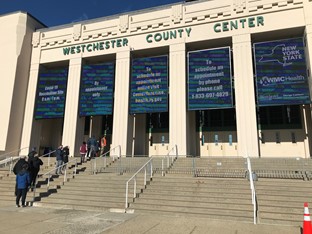 About one out of every eight Westchester County resident has been fully vaccinated against COVID-19 as of last week and nearly one-quarter are at least partially inoculated.
Westchester County Executive George Latimer said that as of last Thursday 13.6 percent of the estimated one million residents in the county have received both doses of the Moderna or Pfizer vaccine or the one-shot Johnson & Johnson vaccine.
Another 11 percent have received their first dose of either the Moderna or Pfizer shots, and are awaiting their second dose.
County officials have been trying to ramp up availability and keep up with vaccination supplies, which are expected to increase. As of Monday, more than 108,000 doses have been administered at the County Center, just over 21,000 at Westchester Community College and another 9,500 at the armory in Yonkers.
Along with the county's Health Department clinic in White Plains and pharmacies and pop-up sites, Health Commissioner Dr. Sherlita Amler urged all residents to sign up for an appointment to get vaccinated as soon as they are eligible.
"The bottom line is they're all effective, they'll all protect you, so whatever vaccine you can lay your hands on is the vaccine you should get as quickly as you are eligible and able to do so," Amler said.
The County Center now has the capacity of administering up to 2,500 vaccines a day, Latimer said. It began operations on Jan. 13.
Westchester is expected to receive a shipment of additional Johnson & Johnson vaccines on Mar. 29, Latimer said. Those are considered best for seniors, including the homebound, because they require just one dose and would prevent the less mobile population from having to venture out for a second shot, he said.
The county is working with Empress Ambulance Service to distribute the Johnson & Johnson vaccine to homebound seniors who are at least 65 years old, said Latimer.
"The vaccines are the great encouragement that we think puts us closer to putting the pandemic behind us," Latimer said.
All people at least 60 years old can now sign up for the vaccine. Previously, the threshold had been 65 and up, along with health care workers, first-responders and other priority occupations.
Starting this Wednesday, municipal workers who deal directly with the public will also be eligible for the vaccine, said Deputy County Executive Ken Jenkins.
Gov. Andrew Cuomo signed an executive order that entitles any worker, either in the public or private sector, up to four hours of leave from their job in order to receive the vaccine, according to Latimer. If a worker gets either the two-shot Moderna or Pfizer vaccines, they are allowed up to four hours for both doses.
On Monday, active cases fell across Westchester to 5,347, down nearly 500 cases since Mar. 8 and by more than 50 percent since the January peak of 11,500.
COVID-19 hospitalizations have also been slowly decreasing, with the number standing at 252 people on Monday, 32 lower than last week, and down from 588 in January.
From Mar. 8 to 15, there were 21 virus-related fatalities, a decrease of six since the previous week. In all, the county's COVID-19 death toll stands at 2,149.
Latimer said he has asked New York State for guidance on high school graduations for this June. School officials have been requesting some sort of direction on whether they can hold an event and how that can be done.
The county has told the state Department of Health their parameters and hope the state will accept.
"Decisions on how graduations are going to be structured really can't wait until the month of June when the graduations would be held and we think getting direction by the end of March, early part of April is essential," Latimer said.
Starting Apr. 1, domestic travelers from any of the 50 states or U.S. territories will no longer be required to have any type of quarantine, Jenkins said. However, travelers from abroad or those returning home from overseas must continue the quarantine upon return, he said.
Click HERE to see if you're eligible to make an appointment.
County Golf Courses Teeing Off
Latimer said that four of the county's six golf courses opened last Saturday, a sure sign spring is just days away.
Dunwoodie and Sprain Lake golf courses in Yonkers, Maple Moor in White Plains and Saxon Woods in Scarsdale will allowed residents to tee off for the first time in 2021.
For the two county's northernmost courses, Hudson Hills in Ossining was not allowed to operate until Monday and Mohansic Golf Course in Yorktown will open its doors on Wednesday. Snow cover lingered at each one of those facilities, which resulted in the slight delay of their openings.
Latimer said the county is working on a plan to open Playland by the last week in June. Last summer the amusement park remained shuttered.