Court Date for Assemblyman Katz on Drug Charge Postponed
We are part of The Trust Project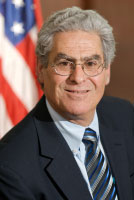 The much anticipated court appearance for State Assemblyman Steve Katz (R-C/Mohegan Lake) on charges of speeding and unlawful possession of marijuana has been delayed a month.
Katz, 59, who was pulled over by a state trooper on the morning of March 14 for allegedly driving 80 miles per hour in a 65-mile per hour zone on the New York State Thruway near Albany and turned over a small bag of marijuana when questioned about the odor, was scheduled to appear in Town of Coeymans Court Thursday.
However, reportedly that appearance has been changed to Thursday, April 25.
Katz, whose district serves Yorktown, Somers, Carmel, Patterson, Putnam Valley and Southeast, has declined to discuss specifics about the incident, saying only "the facts will speak for themselves," and "this should not overshadow the work I have done over the years for the public and my constituency."