News Based on facts, either observed and verified directly by the reporter, or reported and verified from knowledgeable sources.
Couple Reimagines Yorktown Health Club Into Multi-Sports Center
We are part of The Trust Project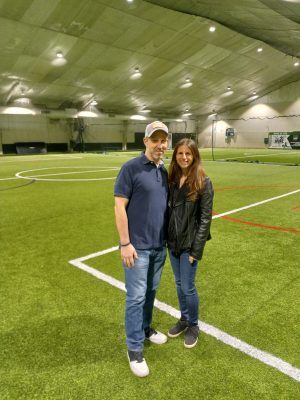 Erin and Jason Cohen had looked for years to find a way they could offer young athletes a year-round facility to train and be properly coached.
The parents of three active boys, a 14-year-old and 12-year-old twins who play and participate in youth sports, they recognized a dearth of sites in the area, both indoors and outside, that they and their peers could use.
On Apr. 1, the Cohens officially took over the more than 40,000-square-foot building that formerly housed the Solaris health club in Yorktown Heights and rebranded it as East Coast Sports and Fitness. They've been transforming it into a place where athletes can practice and train, whether they play baseball, soccer, lacrosse, field hockey or a variety of others sports.
"This has been my calling. This is my mid-life crisis, I would say," remarked Jason Cohen, a CPA who for 25 years served as a CEO and CFO in the financial industry. "I was in the corporate world; I was in commodities. I was always trying to find this. For maybe seven years, I was looking at bubbles, I was looking at, you name it, different opportunities and nothing really panned out. I couldn't get it. It's very hard in Westchester.
"So once I found it I had to go for my dreams. This is my dream," he added.
A key feature of East Coast – named as such because of a partnership with the East Coast Elite club baseball team – is the retention of coaches, many of whom are affiliated with that program and in other sports from around the region to help with clinics, lessons and programs that will be offered 12 months a year.
For the baseball season, the Cohens, who live in Pleasantville, have reconfigured the 17,000-square-foot main playing surface into 16 "tunnels" or batting cages where players can work on their swings.
But it will be much more than a training facility for the youth and high school athlete. There is a potpourri of activities where members of the larger community can participate, whether it's to play pickleball or basketball or take advantage of the multipurpose room once Zumba or yoga classes are scheduled. There's also a conference room and a space to have birthday parties, and there will be summer sports programming for children as well.
Family memberships will be available, Erin Cohen said. While a youngster may be involved in an hour-long practice or clinic, a parent won't just have to sit around, but they can go for a workout.
Marketing themselves all over Westchester and into Putnam County, the Cohens pledge to listen to suggestions from the community and adapt as needed to cater to residents' needs.
"We want people not just in this community to know about it, but from all over to know about it because there's a lot to offer," Erin said.
A clinical social worker, Erin said an important distinction for East Coast Sports will be an emphasis on kids' well-being and mental health. With students under more pressure than ever, she plans to draw on her network of social workers, psychologists and mental health professionals to help.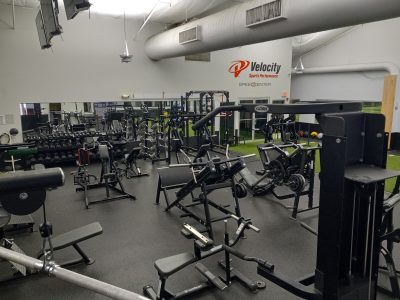 The couple also stressed that the facility is not just for the star athlete or the high school player who is being recruited by colleges, but anyone who wants to be active.
"It's learning mindfulness techniques, teaching them how to become present in the moment," Erin said. "From very young ages, they're goal-oriented, right. But then turning them back to what's your goal today and having fun and where you are in your life today, and remembering it is a game. Yes, there's goals and there's a path for these kids, but you have to remember, whether you're a D-1 athlete or you just want to play and have fun, we want there to be a path for you."
Jason Cohen said the old Solaris café is being reimagined and its facilities will be used for special occasions. On a regular basis, there will be a variety of vending machines, so if people want a snack or a place to sit quietly, that will be available.
"This should be a community center," Jason said. "I know it's for profit, but in theory it's a community center. We want to give (people) what they want."
East Coast Sports and Fitness is located at 201 Veterans Rd. in Yorktown Heights. For more information, call 914-962-4094. For now, the public can visit https://www.solaris-sports.net/ and will be directed to the website. An updated website will be unveiled in the near future.