County, Municipalities to Remember 9/11 With Friday Ceremonies
We are part of The Trust Project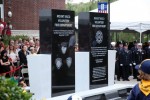 Westchester County as well as municipalities in the area will be hosting special ceremonies today to remember those who perished in the Sept. 11 terrorist attacks 14 years ago. Below is a list of some of the local events taking place, mainly in the late afternoon and early evening.
Mount Kisco
The Mount Kisco Volunteer Fire Department invites the public to this year's Sept. 11 memorial service at the 9/11 Memorial Monument, starting at 6:15 p.m., at 100 Main St., adjacent to the Mount Kisco Public Library. Following a brief ceremony, everyone is invited back to the Mutual Firehouse across the street for light refreshments.
New Castle
The Town of New Castle's memorial ceremony to remember the victims of 9/11, including three town residents who died, will be held at Gedney Park, located on Route 133 in Millwood, at 6:30 p.m.
North Castle
The Town of North Castle's memorial service will be held at in front of town hall, at 15 Bedford Rd. in Armonk, at 5:30 p.m. The ceremony will include reading of the names of the six town residents who died on Sept. 11, 2001, and a wreath dedication by the Green Acres Garden Club. A reception will follow immediately afterward at the American Legion Post 1097, next door to town hall.
Westchester County
Westchester's 9/11 memorial ceremony to honor those whose lives were lost or forever changed by the tragic events of Sept. 11, 2001, will take place at a twilight ceremony at "The Rising" at the Kensico Dam in Valhalla at 7 p.m.
The candlelight ceremony will follow the "9/11 Serve + Remember" volunteer events taking place throughout the day from 2 to 6 p.m. at the Westchester County Center in White Plains. Organized in partnership with Volunteer New York! and Robison, special focus will be given this year to the everyday heroes who save lives by donating blood, bone marrow and stem cells, and others who volunteer as first responders in their communities.
Dozens of volunteer projects will be taking place Sept. 11-13. Learn more and register by calling 914-948-4452 or visit www.volunteernewyork.org/service. To sign up for the blood drive, contact Janet Lokay at 914-995-2127 or e-mail jel1@westchestergov.com.