County, Junior League Join Together for 9/11 Day of Service
We are part of The Trust Project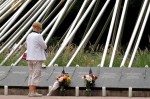 In honor of those whose lives were lost or forever changed by the tragic events of Sept. 11, 2001, County Executive Rob Astorino has once again joined with Volunteer New York! to host "9/11: Serve + Remember" at the County Center on Thursday, Sept. 11. New this year will be the launch of the Westchester County Diaper Bank in partnership with the Junior League of Central Westchester.
Westchester County's formal 9/11 memorial ceremony will take place Sept. 11 at 7 p.m. at The Rising at Kensico Dam Plaza. The public is invited to attend both events.
"Volunteering is one of the best ways to honor the memory of the victims of Sept. 11, 2001, as well as pay tribute to the heroism of those who came together to help," Astorino said.
Detailed information is available at www.volunteernewyork.org/service and advance registration is encouraged. The "9/11: Serve + Remember" events at the County Center are the first in a four-day series of community action projects coordinated by Volunteer New York!
Service projects taking place at the County Center on Sept. 11 from 12 to 6 p.m. include:
Blood Drive (9 a.m. to 4 p.m.): Give blood to the New York Blood Center in partnership with county government.
Diaper Drive: Donate unused diapers or wipes of any size or variety to benefit the Diaper Bank.
Food Drive: Bring non-perishable food items to benefit the Food Bank for Westchester.
Lamp Drive: Help furnish homes for those in need through Furniture Sharehouse.
Mentoring and Tutoring Fair: Learn more about the need for mentors and how you can help.
Blanket Making for Project Linus: Help keep children in hospitals and shelters warm.
Postcard writing for Reverse the Course: Support education for girls in Africa.
Literacy Project: Help Head Start students retell their stories and master early reading.
Additional projects that will run through Sept. 14 can be found at www.volunteernewyork.org/service.
Local 9/11 Ceremonies
—Mount Kisco: Ceremony in front of the village's 9/11 Memorial, near the intersection of Main Street and Route 117, 6:15 p.m.
—Mount Pleasant: A memorial event will be held at the Hawthorne Fire Station, 25 Home St., Hawthorne, 7 p.m.
—New Castle: Ceremony at the town's memorial at Gedney Park, 149 Millwood Rd., Chappaqua, 6:30 p.m.
—North Castle: Memorial ceremony at the town's September 11 Memorial at Wampus Brook Park, Maple Avenue, Armonk, 5:30 p.m.