County Honors Life and Legacy of Lawrence Otis Graham With Memorial
We are part of The Trust Project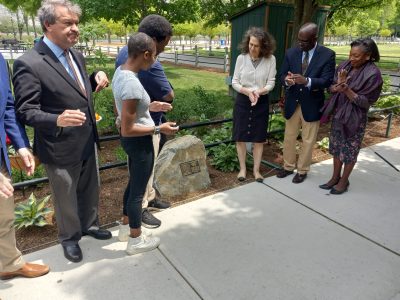 Westchester County honored one of its most accomplished residents last week with a tribute that will evoke his memory and accomplishments anytime someone walks past a new memorial in his honor at Kensico Dam Plaza.
Last Friday, the county unveiled the Lawrence Otis Graham Garden & Memorial at the Valhalla park, to honor Graham's service and contributions to his community and the larger world. Graham, a Chappaqua resident, was an attorney, a celebrated author of 14 books and News 12 political commentator. As a Black man he dedicated his life to equity and exploring the complexities of race in American society.
Judith Riggs, a friend of Graham for more than 30 years, said he was a role model not only for her but for society. Even more than two years after his unexpected February 2021 death at 59 years old, she still asks herself when faced with a difficult decision what would Graham say.
"I looked at him professionally, I looked at him socially, I looked to him at every single step that I've made," Riggs said. "You can better believe that I consulted with Larry up until the week before he died; we had quite a few conversations."
Officials presented the garden, not far from the park's playground. Friends, family and officials gathered around a stone in front of the garden that contained a small plaque with the inscription "Honored for his life-long pursuit of racial equity, upholding democracy and example of human kindness."
County Executive George Latimer said Graham was influential in so many circles, in the legal, political and literary worlds, making an impact wherever he turned. Having a garden will allow Westchester residents to always remember a life well-lived, he said.
"There are so many elements to his life and we hope with the Graham Garden & Memorial people will come by, they'll look and they'll see a name and someone will say who was that person? What did he do? And because we have electronic means now finding out about people very quickly, that somebody will study the life of Lawrence Otis Graham and he will come alive again for that person who passes by this memorial and sees the name."
Despite being a Princeton graduate who went on to Harvard Law School, one of the Mount Vernon native's more notable accomplishments was the time he took a job as a busboy in the early 1990s at the Greenwich Country Club. The experience led him to exploring the impact of race on social identity and how it also manifested itself among the different classes of Black Americans.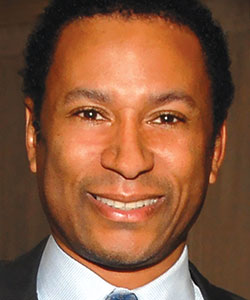 experience led him to write the book "A Member of the Club: Reflections on Life in a Racially Polarized World" years later. Perhaps Graham's most celebrated work was "Our Kind of People," which explored the Black elite. It was made into a television series on Fox shortly after his death.
Senate Majority Leader Andrea Stewart-Cousins said she met Graham at about the time she started in local politics, and although she had never known of the so-called Black elite, he was okay with her and accepted who she was.
"Larry was a communicator, he was an educator, he was somebody who was relentless in the most pleasant way because with all of the education he was doing, sometimes it was very difficult," Stewart-Cousins said. "People don't want to hear this, it was like 'Oh no, here comes this angry guy again.' That was never him."
Attorney William Null of Cuddy & Feer, one of the two law firms where Graham worked during his days as an attorney lauded him, saying his "integrity, his honesty, moral compass hopefully will continue to guide us in the right direction he had us in for so many years, and we're grateful to have had him in our lives, and I plan to keep him here."
With all of his accomplishments, to his daughter Lindsey, Graham was simply a deeply caring father and person.
"He just cared for everyone, for absolutely everyone. He had time for everyone – and especially us," she said of her and her siblings. "He dedicated his life to making sure we were happy and gave us everything that we needed. Super special."