County Correction Officers Protest Lack of Contract, Health Insurance Costs
News Based on facts, either observed and verified directly by the reporter, or reported and verified from knowledgeable sources.
We are part of The Trust Project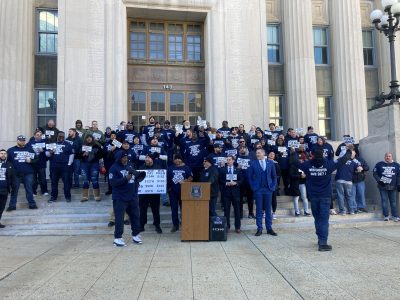 A large contingency of correction officers rallied outside the Westchester County office building in White Plains Monday to call for a new contract that lowers health insurance contributions.
About 700 correction officers, who deal with about 2,300 inmates annually at the Westchester County Jail in Valhalla, have been working without a contract for four years and haven't received any pay raise, although their health insurance premiums have continued to increase.
"We're here to demand medical justice," Neil Pellone, president of the Westchester County Correction Officers Benevolent Association (COBA), said at the demonstration. "We're a hidden gem behind a wall. We're not behind a wall anymore."
Pellone said members of COBA should be treated the same as the other law enforcement unions, such as the Police Benevolent Association and District Attorney's Office investigators regarding health insurance contributions that are required. Instead, he said his members pay about $560 a month, compared to about $365 for the District Attorney's staff and $210 for probation officers, all of whom earn higher salaries.
He said the disparity has resulted in a significant drop in interest in filling correction officer vacancies. In 2012, 7,000 applicants took the exam, as compared to 534 this year. Two years ago, 22 correction officers quit their jobs, and this year 10 have left so far.
"Who wants these jobs? It's incredibly stressful," Pellone said.
Assemblyman Matt Slater (R-Yorktown) and Board of Legislators Minority Whip James Nolan (R-Bronxville) attended the rally to show support for the correction officers.
"It's garbage. It's time for a fair contract," Slater said. "This is unacceptable. It really comes down to realities and priorities."
Pellone said the last time COBA representatives met with county officials to discuss a new contract was in August.
During his weekly address Monday, Westchester County Executive George Latimer, who noted the previous three-year contract that expired in 2019 was finalized by his predecessor, said county representatives would be reaching out to COBA to restart negotiations. He said he wasn't offended by the union's demonstration.
"There's a certain amount of theatrics" to the process, he said.
"I don't deny one second how difficult it is to be a correction officer. There is no question every county employee does a job that is important," Latimer said. "We are a flexible administration. We look forward to working with the union in a spirit of cooperation. I remain confident we will come to closure."
Pellone said the starting salary for a correction officer is $62,000. That salary increases to $99,000 after seven years.