Cottage School Has No Plans to Accept Psychiatric Cases at Center
We are part of The Trust Project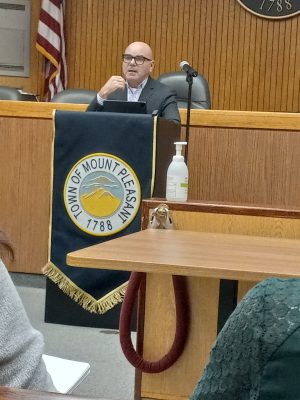 The CEO of the organization that operates the Pleasantville Cottage School last week denied there are any attempts by the residential treatment center to begin accepting youths who are in need of psychiatric care.
Ronald Richter, the head of the Jewish Childcare Association (JCCA), said the organization continues to operate as it always has, for children between the ages of seven and 16 years old with emotional, educational and behavioral challenges.
"To date, the state has not authorized it, and we haven't sought to change into what is called a residential treatment facility," Richter said of the rumors of it accepting those with psychiatric needs. "Those are under the auspices of the state Office of Mental Health. That is not us. We are licensed by the Office of Children and Family Services to be a residential treatment center, which is what we've always been."
Recently, Mount Pleasant officials have sounded the alarm, fearing that with a statewide reduction of in-patient psychiatric beds at other facilities and a pattern of hospitals releasing youngsters who may have previously been considered for a longer evaluation could incentivize the JCCA to become a residential treatment facility.
Supervisor Carl Fulgenzi said he and others in the town have been under the impression based on public comments that Richter has made that the JCCA is leaving open the possibility of taking on people who are in need of psychiatric care.
"He's made comments about how the state has closed down other facilities, there's a reduced amount of beds that are available for psychiatric care, and then he alludes to the fact that if he has to take on more, and he's already taking on some, that he would need additional funding and get (staff members) who can handle psychiatric care, people who are trained in it," Fulgenzi said.
A spokesman for the state Office of Mental Health said there has been no request from the JCCA and the Cottage School to become a residential treatment facility. Spokesman James Plastiras said Monday the agency has not submitted a Prior Approval Review to be licensed to care for psychiatric cases. For any facility hoping to receive that authorization, that would be the first step, he said.
The Cottage School has been the source of deep concern for town officials and residents over the years, with hundreds of calls made to the Mount Pleasant Police Department each year. In the fall, there had been a sharp uptick in calls to the local police, including some relating to criminal activity. In the first 11 months of 2022, there had been 682 police calls related to the Cottage School, according to the department.
Those incidents prompted the town, concerned residents and JCCA representatives to hold a forum at Town Hall in late November.
Richter said he is hopeful that Gov. Kathy Hochul in her upcoming budget address, which is expected to be delivered this week, results in more money being made available for day treatment programs.
"I think the state needs more community-based services that involve clinical services and school services in the same location," he said.
Last June, Richter issued a warning during a public hearing on mental health held by Attorney General Letitia James that the state needs a coordinated system to ensure that a continuum of care for young people in crisis is offered. He said the Cottage School "should not and cannot rely on a system without sub-acute care settings and inadequate adolescent psychiatric emergency care settings. This is dangerous for New Yorkers and is the current state of affairs. It must change."
The federal Families First Prevention Services Act in 2018 has also had a negative impact, Richter said during the November forum. The legislation was enacted in hopes of keeping children with their families instead of out-of-home care whenever possible. As a result, the turnover at facilities such as the Cottage School has been at a greater rate.
Councilwoman Danielle Zaino, who was a founder of the Coalition for a Safe Mount Pleasant about six years ago, in large part because of difficulties connected with the Cottage School and another facility, Hawthorne Cedar Knolls, said during the holidays the number of calls to police and complaints from residents appeared to have subsided.
However, more recently, that lull may be reversing itself. Mount Pleasant police reported two serious incidents, on Jan. 11 and Jan. 13, involving Cottage School residents – a larceny at the Thornwood ShopRite and a security officer who was stabbed by a resident with scissors.
Zaino said she hopes the JCCA is more transparent about its intentions and should clearly state to town officials and the community whether they will indefinitely remain a residential treatment center.
"(When) you're adding in psychiatric cases that is a much bigger issues, you need a lot more treatment, and care and security," she said.
Richter said the relationship between the JCCA, town officials and police has been strong. It was the town that had suggested erecting an eight-foot-high fence around the perimeter of the Cottage School property. That was approved by the Mount Pleasant Zoning Board of Appeals on Jan. 12.
The JCCA is required to put the fencing project out to bid, but Richter is hopeful it will be in place shortly to provide the community and the young people greater safety. The agency is also working with the state Office of Children and Family Services to house the most challenging youths in a separate cottage or two.
"We want to ensure that the young people that are providing the most challenges can get more intensive supervision, and so that's part of the plan as well," Richter said.