Cortlandt Town Clerk to Retire After Snub from Democrats
We are part of The Trust Project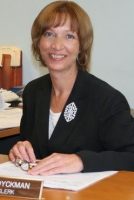 For the 14th time, Cortlandt Supervisor Linda Puglisi will be at the top of the ticket of the Cortlandt Democrats in November.
However, not running again with Puglisi is longtime Cortlandt Town Clerk Joann Dyckman, who was not endorsed by a majority of the Democratic Committee and, subsequently, has decided to retire at the end of the year after 20 years in office.
"I had to make a decision of what I wanted to do going forward," said Dyckman, who admitted being surprised by being snubbed. "I took a few weeks to think about it. In the end, I had to do what was (best) for me. I always found this job to be very interesting. It's different every day. I love all the people I work with. It will be a new experience. I'm looking forward to it."
Looking to fill Dyckman's shoes for the Democrats will be Laroue Shatzkin, a resident of Croton and stepdaughter of former committee chairman John McBride. Current Cortlandt Democratic Chairperson Karen Pecora, who noted she backed Dyckman, said the town clerk position was the only contested race.
"I was surprised Joann didn't get it," said Pecora, who noted the committee has seen a recent surge of district leaders from Croton. "I don't think anyone should be forced to retire before they want to and I wish Joann would stay in the race, but I support Laroue 100 percent."
Puglisi, who served four years as a councilwoman before being elected supervisor in 1991, said she is looking forward to build on her administration's accomplishments and extend the record she holds with Greenburgh Supervisor Paul Feiner as the longest serving supervisor in Westchester County.
"I'm very excited about seeking reelection," she said. "We have many important projects that we're working on. I'm honored to be the town supervisor."
Meanwhile, in the race for two available Town Board seats, Councilwoman Debbie Carter Costello will be vying for a second four-year term. Seeking a first term is Planning Board member Jim Creighton, who is hoping to succeed Councilman Seth Freach, who is not running for a second term since he and his wife are relocating.
Filling out the slate is longtime Receiver of Taxes Mary Breining, Westchester County Legislator and Majority Leader Catherine Borgia, who represents District 9, and Nancy Vann, best known for her opposition to the Algonquin and Atlantic Bridge gas pipelines, who will be looking to unseat Legislator John Testa in District 1.
"We're very hopeful about the legislative race because Nancy has a big following," Pecora said. "We're very proud of all of our candidates. They do a great job, especially Linda. It looks like the slate is strong and we'll be victorious in November."
The Cortlandt Republican Committee is expected to field a full slate of candidates this year and are close to announcing who they have selected.