Cortlandt Musician Scheduled to Release Debut Album
We are part of The Trust Project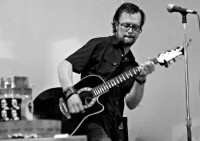 Like many people, Joe Duraes' day job as a publicist was paying the bills, but it wasn't personally fulfilling. So, six years ago, Duraes returned to his passion, music, and began writing songs.
The feeback the Cortlandt resident received about his music was so positive that he decided to aim higher and create an entire album.
"I've been thinking about doing an album for quite a while. I thought it would be a cool idea," Duraes said. "The reaction I got from people made me think I have something here."
Working with some seasoned and well accomplished musicians and producers, Duraes was able to put together enough money to complete his debut album Ebb and Flow, which will be officially released on November 26 but can be purchased 11 days earlier this Friday, November 15 at a CD release party at The Peekskill Coffee House at 101 South Division Street at 7 p.m.
"It's a collection of songs that capture the changes and experiences in my life over the last decade," Duraes said about his 10-song album. "They reflect who I am and where I come from. They are experiences and feelings most of us can relate to."
The album, which was recorded between December 2009 and October 2013 in Croton-on-Hudson, Brewster and Charlottesville, VA, explores themes that range from love to the beauty of the Hudson River region to the heartache of September 11, 2001.
One of the songs, 'Eyes Upon the Skyline,' tells a story about September 11, 2001 from the perspective of Duraes who lived in Brooklyn at the time and was riding the subway underground when the first plane struck the World Trade Center.
"I didn't know what was going on," he said. "It took me the longest to write that song because I knew it had to be done right."
Duraes explained the name of the album was the first song he wrote and reflects, in part, his philosophy.
"The song is about life, the good and the bad. Stuff that happens and loss and how people deal with loss," he said. "My attitude in life is stuff happens, but you have to get up and keep going."
Duraes has lived in Cortlandt for 12 years and has performed monthly at The Peekskill Coffee House for about the last three years. After the CD is released on November 26 it will be available online through CD Baby, iTunes, Amazon and dozens of popular download and streaming sites. For further information, visit www.joeduraes.com.