Cortlandt Hires Community Police Officer from County
We are part of The Trust Project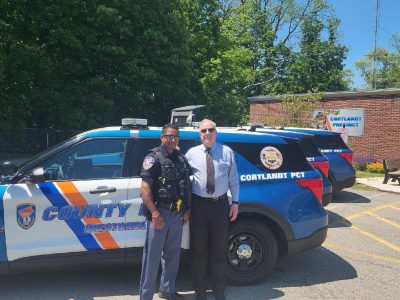 The Cortlandt Town Board last week agreed to hire another full-time Community Police Officer from the Westchester County Department of Public Safety, which provides most of the police coverage in town.
"We're trying to create the feeling that we have our own Police Department," Cortlandt Supervisor Dr. Richard Becker said. "There is a perception among the community that there is rampant crime and that policing efforts in our town are inadequate since we do not have a town-owned Police Department. In fact, crime is down across the county. In particular, it is significantly down in the Town of Cortlandt."
The Cortlandt Police Department was abolished in 1998 by the town board at that time as a cost cutting move and police services were taken over by Westchester County and State Police. Members of the Police Department sued Cortlandt, and prior to the start of a scheduled trial on March 20, 2000, the two parties agreed to a $1.77 million settlement.
Despite the statistics showing crime is on the decline, Becker explained the Town Board has taken several steps to make citizens feel safe.
Based on a "Policing Committee" study in 2021, chaired by Deputy Supervisor James Creighton, a recommendation was made to hire a Community Resource Officer (CRO). Town officials followed through on that suggestion by hiring Officer Deopaul Mahadeo last year, who Becker said has "one a remarkable job de-escalating serious situations."
Becker said town officials also insisted that all county police officers that serve Cortlandt work exclusively in the town so residents can recognize them.
In addition, the Town Board renamed the police barracks at Town Hall the "Cortlandt Precinct" and placed "Cortlandt Police" on any police vehicle that patrols town streets.
The additional Community Police Officer will be tasked with traffic and safety issues throughout the town.
Each officer costs Cortlandt approximately $250,000 annually, which includes salaries and benefits. Becker said the additional expense will be covered by the American Rescue Plan Act (ARPA) funds the town received from the federal government.
Cortlandt's total expenses to contract with the Westchester County Department of Public Safety are about $1 million annually.
"That's a partnership that not only has been successful but also wise," said Councilman Frank Farrell. "Cortlandt took a step in the right direction 20 years ago when they partnered with the county."