Cortlandt Girl Helps Raise Awareness for Childhood Cancer
News Based on facts, either observed and verified directly by the reporter, or reported and verified from knowledgeable sources.
We are part of The Trust Project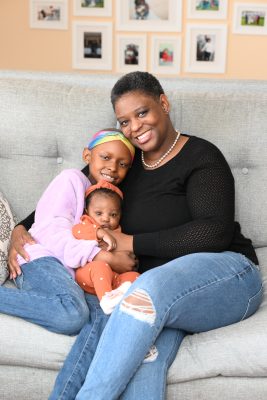 What started out as a stomach ache at school turned into the worst nightmare for a Cortlandt family.
It was last September that Madison M. (the family requested their last name not be used) asked to see the school nurse. The normally energetic seven-year-old was hunched over, unable to walk.
What was initially suspected to be appendicitis turned out to be far worse. A mass was discovered in Madison's abdominal area, and was successfully removed during surgery at Westchester Medical Center.
However, a week later tests revealed the mass was cancerous and Madison was diagnosed with rhabdomyosarcoma, a rare children's cancer that affects the muscles.
"That's when our world did a 360," remarked Madison's mother, Tiana. "When they said cancer, time stopped for me. Something so small turned into something so large. It was definitely overwhelming. My world just got rocked. I was scared, but I had to be strong for my little girl."
Madison's first reaction when told by the doctor was to ask if it was the same kind of cancer adults get. When she was told it wasn't, Madison said no big deal, and on the car ride home she sang loud to "Fight Song" by Rachel Platten. Tiana said her daughter also asked if they could go to Panera Bread.
"If this little girl is singing, why can't I?" Tiana recalled. "From that point on, I knew we would be okay."
Madison underwent chemotherapy. She handled the treatments well, but her hair began to fall out. She decided to have her head shaved and then called her grandpa to tell him they were now twins.
"That was my biggest concern because Madison is a diva," Tiana said. "She said I look like a punk rocker. She looked in the mirror and said it was kind of nice. She started modeling with scarfs. She likes to rock her bald look. She just made light of it."
Tiana said the cancer has not affected any of Madison's bodily functions and it does not show up in her blood work. She is expected to finish her treatments at Memorial Sloan Kettering Cancer Center in July.
"We're keeping our fingers crossed. The cancer is very aggressive," Tiana said. "We try to be real transparent with her. It would be so wrong if we hide anything from her. I call her warrior princess because she is owning this treatment."
Because of her spunkiness, positive attitude and desire to inform others, Madison was encouraged by Memorial Sloan Kettering staff to be an ambassador for Stop & Shop's annual Help Cure Childhood Cancer campaign, which kicked off in early March and runs through Apr. 2.
The campaign runs in all New York, New Jersey and southern Connecticut stores. Shoppers can make a donation at checkout by rounding up their total purchase to the nearest dollar or donating an additional $1, $3 or $5. All of the proceeds benefit MSK Kids, the pediatric program at Memorial Sloan Kettering.
Now in its 22nd year, Stop & Shop has donated more than $28 million to the program.
"The dedication and generosity of the entire Stop & Shop community provides the resources necessary for our physicians and scientists to work towards better treatment options for our youngest patients," said Dr. Andrew Kung, chair of the Department of Pediatrics at Memorial Sloan Kettering.