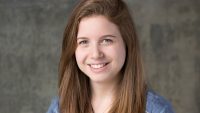 By Anna Young
Filmmaker Leah Galant is bringing complex issues to the forefront of the conversation one film at a time.
During her brief career, the 24-year-old documentarian from Cortlandt has received high acclaim at national film festivals for her two documentary short films that each focus on controversial themes of social justice.
Last year, Galant was accepted into the Jacob Burns Film Center Inaugural Sally Burns Shenkman Woman Filmmaker Fellow program, where she received the creative support, mentorships, studio space and financial backing to film "Kitty and Ellen," a film documenting two best friends and Holocaust survivors who reflect on the political climate and their past during the 2016 presidential election.
Galant was also accepted into the Sundance Ignite Fellow program, an internship where young filmmakers receive additional creative and professional development opportunities as they develop their craft.
Galant, a 2015 Ithaca College graduate, always knew filmmaking was her passion. Despite an interest in photography growing up, Galant's focus became nonfiction filmmaking. But after taking a few sociology and ethnic study courses during her sophomore year, she realized she wanted to use film as a tool for social change eventually changing her major from fine arts to documentary studies.
"I realized how messed up the world is and that I had been living in a bubble," Galant said. "Learning how to make a film and learning every day issues and how I can combine those two things into generating and impacting change became my focus in school."
In her senior year, Galant took a documentary workshop, where she collaborated with a group of six people to produce "The Provider," a 22-minute documentary that follows a traveling abortion provider in Texas who performs abortions despite restrictive laws and threats to her safety. The film was well-received and qualified for entry into several national film festivals, also earning the group a Student Emmy Award.
She was also named one of Variety magazine's "110 Students to Watch in Film and Media" for their April 2015 issue for her work on "The Provider," and another student project "Beyond the Wall," a film about a former inmate and his successful reentry into society.
"Finding a topic where I'm always growing is something I'll always seek out," she said. "We just want folks to tell their truth. There's nothing deceitful about that."
Despite the overwhelming success Galant had received, she was reluctant to come home after graduation and continued to stay in Ithica an extra year to develop her talent. When she fell into a creative rut, she moved back home and began questioning her ability as a filmmaker.
Before discovering the Jacob Burns fellowship application, she knew she wanted to be a part of the Burns media community to further her education. Galant said she had a step-by-step plan where she would volunteer with the theater, become an usher and eventually work her way up to the education department. Luckily, she applied for the fellowship and was accepted immediately.
With support from Burns producer Sean Weiner and input from the film center's educational program, Creative Culture, Galant's story, "Kitty and Ellen," came to be. Weiner also produced "Death Metal Grandma," a documentary short that follows a 95-year-old Holocaust survivor as she attempts to break out as a death metal singer.
"It's been so incredible to work with a group of filmmakers, so it was an extension of film school in a very beautiful way because everybody's talents were so different," she said.
Last year, "Kitty and Ellen" went on to play at several film festivals, including DOC NYC, the largest documentary film festival in America. Galant said she was excited to screen her film, especially surrounded by cinematic icons that made her feel very welcome in the industry.
"Sitting in a room where people are moved is something I can't articulate," Galant said. "Any practice that you create anything from an authentic place and sharing it is exciting."
As Galant look towards the future, she wants to continue tackling female-centric themes that are both misrepresented and underrepresented to make a real impact on society. She also hopes to transition to feature length films and work alongside established female filmmakers.
"I think media is the most powerful tool for change and the goal is to bridge that communication divide," Galant said. "Any way that we can impact the world, especially now, is something that I want to do and continue to do."