Cortlandt Couple Wins $5 Million in Mega Millions State Lottery
We are part of The Trust Project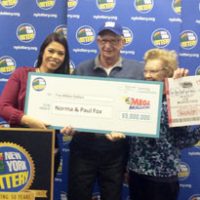 Running errands recently paid off handsomely for a retired Cortlandt couple.
Last week, the New York State Lottery introduced Paul and Norma Fox as the $5 million second prize winners in the September 22 Mega Millions drawing.
Paul purchased the winning $2 ticket at Roa Hook Food Mart at 98 Roa Hook Road in Cortlandt and cashed in on the normal $1 million prize by spending an additional $1 on megaplier, which multiplied his payout five times.
"I checked online and saw that we matched five numbers. I called for Norma and told her we won $1,000,000. She was shocked," Paul said. "I forgot I played the megaplier. I was speechless when I realized."
The couple have been married for 54 years. Paul is retired from Chase Manhattan Bank, while Norma is retired from Westchester Medical Center.
The couple, who are splitting the prize equally, plan on using the money to help their three children and five grandchildren, fix their house, pay debts and donate to their church. They opted to receive their prize as a one-time lump sum payment. Each will receive a net check totaling $1,654,500 after required withholdings.
When asked how it feels to win the Lottery, Paul said, "It's a change. You realize you can go into a store and buy something and not worry about where the money is coming from."
Ironically, one winning first prize ticket totaling $104 million in the September 22 Mega Millions game, where the player matched all five numbers drawn plus the mega ball, which the Fox's didn't have, was sold in upstate Cortland.