Congressman Raskin Speaks on Personal and National Trauma
News Based on facts, either observed and verified directly by the reporter, or reported and verified from knowledgeable sources.
We are part of The Trust Project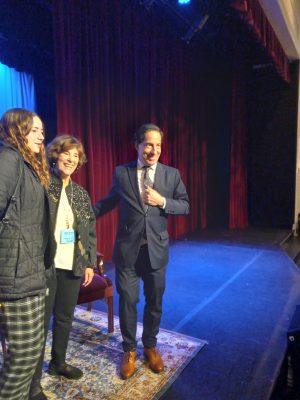 Within a week, Rep. Jamie Raskin experienced two traumatic and completely unrelated events that would have been unthinkable days before they occurred.
On Dec. 31, 2020, Raskin's son, Tommy, a second-year Harvard Law School student, died by suicide after having battled depression. The young man wasn't just a brilliant student but a prolific writer, slam poet and jazz and blues pianist who often displayed a sharp sense of humor.
Six days later, with Raskin back in the halls of Congress to complete the perfunctory task alongside other lawmakers to confirm the 2020 Presidential electoral vote count, a mob of insurrectionists took over the Capitol trying to stop the peaceful transition of power.
For someone who fellow Rep. Abigail Spanberger once called the funniest man in Congress, the life-changing events made Raskin, a Maryland Democrat, a more serious person.
"I think trauma is like a thief that steals everything from you that is most precious and the most beloved that makes life meaningful, and just when it's the end of everything, trauma also connects you to other people and binds you in a much deeper way to other people's humanity than you could ever imagine," said Raskin, who spent more than 25 years as a constitutional law professor at American University Washington College of Law before his election.
In the above comment, Raskin was talking about losing his only son (he and his wife have two daughters), but in some ways he also could have been speaking of the state of the country. The third-term congressman was at the Chappaqua Performing Arts Center on Sunday morning talking about his new book, "Unthinkable: Trauma, Truth and the Trials of American Democracy." Raskin discussed his son, his friendship with Rep. Liz Cheney since shortly after they were elected despite being at opposite ends of the political spectrum and the overlapping life-changing events that occurred in such a short period of time.
Raskin was interviewed in front of crowd of close to a few hundred, including President Bill Clinton and former secretary of state Hillary Clinton, by John Diaconis, president of the Friends of Miller House/Washington's Headquarters in North White Plains.
He recalled the early afternoon of Jan. 6, when members of Congress could hear the swarm of people from outside barreling into the Capitol and reaching the House of Representatives' chamber. Some of the insurrectionists were carrying the Confederate battle flag.
"I said, 'Liz, it looks like we're under new management here,' and she just shook her head and said, 'What have they done? What have they done?'" Raskin remembered.
It was Cheney and Rep. Hakeen Jeffries who insisted that the House return to work that night to complete the Electoral College confirmation process. He said he drew on her strength.
"When it was suggested to me to become the vice chair of the (January 6) committee, I said we need a Republican," Raskin said. "We need Liz Cheney. I felt very strongly about that and I still do, and I'm proud I made that decision."
Raskin urged how crucial it is to put country and the constitution over political and personal interests "because the country is far bigger than any one of us. It's far bigger than the best person in the country."
For those who are in despair, he reminded how we could use inspiration from the people of Ukraine, who are fighting not only for their country and their freedom but for their lives in a far more dangerous situation.
"I hope everyone in this room will go out and fight every day with everything you've got for our democracy and for our freedom and for the truth," Raskin said.
He said a change in the United States' discourse will have to come from the center left and the center right, not party idealogues.
"They've come together to defend democracy and fascism and that's the importance of people like Liz Cheney and Sen. Mitt Romney, who are going to stand up for the constitutional structure," Raskin said.
Raskin interspersed his comments with quotes from Thomas Paine – he had named his son after the influential activist and political writer – who helped inspire a generation to fight the British to gain independence.
In the less than two years since his son's death, Raskin has tried not to wallow in grief, as understandable as that is, but to continue to believe in the future.
"I've come to believe that I honor Tommy best by trying to remember his hope and his optimism and his belief that things could improve for humanity and America and not be obsessed with the final days and what depression did to him," Raskin said.