Congregation Putting Finishing Touches on P'ville Church Restoration
News Based on facts, either observed and verified directly by the reporter, or reported and verified from knowledgeable sources.
We are part of The Trust Project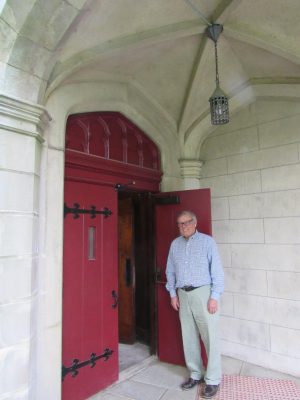 For a century-old landmark church that has long served countless numbers of community groups and parishioners, restoring and reinforcing the building's core structure is essential.
Built in 1912, St. John's Episcopal Church in Pleasantville is nearing completion of a major restoration and renovation project that has included significant work in the rectory and parish hall. The goal: to keep the 110-year-old historic Gothic revival church standing for another century, at least.
Work on the Sunnyside Avenue church, parish hall and rectory started in 2021 and to date is three-quarters finished. One section of the rectory to house the church's resident priest was a home built in 1740 and the two other sections were built in 1829 and 1920, respectively.
For the current project, the rectory required a major kitchen renovation, new weather stripping, new doors and windows and electrical wiring. The work is expected to be finished in time for the new priest, expected to arrive this fall.
Paying for the project involved careful budgeting, building a reserve fund and applying for grants specifically tailored to fund historic religious buildings, said Peter Russell, a St. John's parishioner since the 1970s.
"We created a budget and had three outside funders who gave us grants totaling over $150,000," said Russell, who has served on the Property Committee, which has been overseeing the capital project for about seven years.
Some repairs aren't visible, such as the church's 100-year-old slate roof that needed new gutters, or the rectory's chimney that needs repointing. What is visible is the heavy wooden front door to Parish Hall that had been ruined by decades of moisture and decay.
"We wanted to keep the historical character of the exterior, especially the front door, which was over 100 years old," Russell explained. "But the door fell into such disrepair it could not be opened."
The door was rebuilt using white oak and stained to look like the original red door, period hinges and metal work were replaced and a crash bar was put in for safety reasons. The final cost for the door was about $45,000.
Completed work in Parish Hall includes replacing and painting the dark wood walls worn down over many years, and installing new wall sconces, radiator covers and new lighting in the kitchen. On tap for the space are heating and cooling pumps for the main hall, the offices and meeting rooms.
In 2017, St. John's was officially listed on both the National and New York Registers of Historic Places. The three outside groups that funded more than $150,000 to St. John's were the Episcopal Diocese of New York, that has a funding program to restore and renovate parishes, the New York Landmarks Conservancy for sacred sites, which funds repairs and restorations to church exteriors, and the Bedell Fund, established in 1994 to strengthen the Episcopal Church through funding of capital projects and clergy support.
With about 100 congregants, St. John's is known for ongoing community outreach, providing space for groups to regularly meet, including a women's AA group, the Brownies, performing arts groups, Open Arms for Refugees, A-Home and Midnight Run, as well as a staging area for outreach efforts to the homeless population. More than 100 volunteers work on the community garden, producing over 400 pounds of vegetables that are donated to a local food bank.
St. John's will be celebrating the progress it has made on restoring and renovating its three buildings on Saturday, June 17 from 6 to 9 p.m. The event, "Opening Our Doors to Tomorrow," marks the launch of a capital campaign to raise additional funds needed to complete the work. It is free and open to the public.
Along with food and drink, architect Charles Henkels will give guided tours of the progress made so far.
"We are being good stewards of an older structure and we want it to last another hundred years," Russell said.
For more information or to RSVP for the June 17 gathering, call 914-769-0053 or e-mail stjohnspleasantville@gmail.com.