Conditions Remain Unhealthy From Canadian Wildfires; Advisories Issued
News Based on facts, either observed and verified directly by the reporter, or reported and verified from knowledgeable sources.
We are part of The Trust Project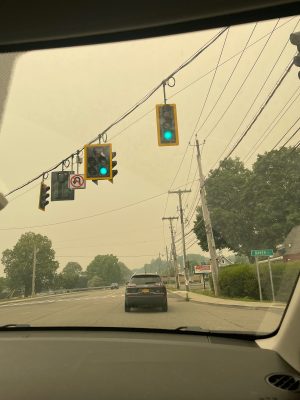 A wildfire expert compared smoke pouring into the New York metro area and much of the Northeast from the Canadian forest fires to the worst conditions experienced in recent years in California.
Alistair Hayden, an assistant professor in the Department of Public Ecosystem Health at Cornell University, told The Examiner Wednesday the region will not see relief from the smoky skies and health dangers from nearly unprecedented conditions for this area of the country until there is a change in wind pattern.
"Even in California, things did not get this smoky until 2017 or 2018, so it was fairly new when I was living out there," said Hayden, who previously worked for the California Emergency Management Company and has been researching the public health impact on wildfire smoke.
Westchester County yesterday issued multiple advisories to residents, first recommending in the morning limiting outdoor activities, then issuing a set of guidelines to help people for as long as the serious conditions last.
The county urged as many people as possible to stay indoors with windows closed until the air quality significantly improves; to wear masks specifically designed to filter out harmful particles and pollutants for anyone that needs to go outdoors; and to avoid strenuous physical activity that could lead to increased inhalation of airborne pollutants.
All county-sponsored outdoor events were canceled on Wednesday, and many municipalities, school districts and organizations curtailed planned activities as well.
"Infants and people with asthma, heart disease or other respiratory conditions should limit their time outdoors while this haze of fine particulate matter is present in our area," Health Commissioner Dr. Sherlita Amler said in a statement. "With the air quality index at an unhealthy level today, all residents should limit strenuous outdoor activity. This may be a good day to skip that outdoor run."
The state Department of Environmental Conservation (DEC) also posted an air-quality health advisory that was expected to last into Thursday. The air quality forecast for Thursday is unhealthy for sensitive groups in the lower Hudson Valley while it will remain unhealthy for everyone in New York City and Long Island, the DEC website stated Wednesday evening.
Although there are several hundred fires burning in Canada from coast to coast, the ones in Quebec is what's affecting the local area and the Northeast, according to Hayden.
Hayden said some of the worst conditions were in central New York State and in the New York City area, where PM2.5 levels, a scale used to measure the concentration of hazardous compounds in the air, hovered around 400 for portions of the day on Wednesday. A reading under 50 is considered good, levels around 150 are poor and 400 is "very unhealthy or hazardous," he said.
Hayden explained that PM2.5s are very small particles that a person can breathe in, which enters the lungs and bloodstream and can affect different organs.
"I think the main thing that we can hope for to clear the smoke is a shift in wind pattern," Hayden said. "So right now, these wind patterns are several hundred miles north of us in New York State, and so the wind is blowing the smoke to us down in the Northeast and even down to the mid-Atlantic, and if that wind can change direction, it just might blow it out to the ocean without impacting too many people."
On Wednesday, AccuWeather reported that there was a chance that some of the worst conditions could ease in the area by Thursday, but depending on how long the fires in Canada burn and the weather conditions, there could be recurring smoke episodes.
"On Thursday and Friday, the worst smoke and related air quality is expected to shift west across the Great Lakes and parts of Ohio Valley and interior Northeast including the cities of Buffalo, Pittsburgh and Detroit," said AccuWeather Director of Forecasting Operation Dan DePodwin.
Hayden said climate change is one factor, where fire seasons around North America have become longer, but so is the forest management policy of suppressing fires in recent decades. It may seem counterintuitive, but when there are small fires that start naturally, it burns off a lot of the materials that fuel forest fires, he said.
"So, what we've don't by suppressing the fires is we've actually taken the ecosystem out balance and that's allowed more fuels to build up then would naturally be there, and there are more fuels (that) lead to longer fires when wildfires start," Hayden said.