Community Mourns Loss of Peekskill St. Pat's Day Parade Grand Marshal
We are part of The Trust Project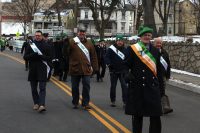 The Cortlandt/Peekskill community is mourning the loss of Michael Richard O'Hanlon, Grand Marshal of this year's Peekskill St. Patrick's Day Parade, who died Monday at his home in Cortlandt. He was 59.
Mr. O'Hanlon had battled illness stemming from his service during rescue and recovery efforts at Ground Zero at the World Trade Center following the September 11, 2001 terrorist attacks with fellow firefighters from Engine Company 68/Ladder 49 in the Bronx. He worked as a firefighter for 30 years before retiring in 2013.
Born November 1, 1957, in the Bronx to Con and Ann O'Hanlon, who hailed from Ireland, Mr. O'Hanlon attended schools in the Bronx and Yonkers, graduated from Mount St. Michael Academy in the Bronx, and attended Iona College before joining the Fire Department of New York in 1982. He was fiercely proud to be a part of the FDNY, which he called the "greatest job on Earth."
On September 27, 1981, he married Maggie (nee Loftus) and moved to Cortlandt, where they raised three children, Katherine, Michael Jr. and Martin with the same values and traditions they experienced growing up.
Mr. O'Hanlon was a member of the FDNY Emerald Society and Holy Name Society. He was a regular for more than 25 years with Jack McAndrew at Guinan's full moon sessions in Garrison, and he continued the tradition at The Quiet Man Public House in Peekskill after Guinan's closed. He was a member of the Celtic Blend Band.
Mr. O'Hanlon was a member of the Hudson Valley Irish Fest Committee and volunteered his time and talents to one of the finest festivals around.
He is survived by his wife, his children and son-in-law, his sisters and brothers-in-law, his niece and nephews, and numerous relatives both here and in Ireland. In lieu of flowers, a donation in Mr. O'Hanlon's name to the FDNY Family Transport Foundation.
A wake will be held on Thursday from 2 to 4 p.m. and 7 to 9 p.m. at Yorktown Funeral Home at 945 East Main Street in Shrub Oak. A funeral mass will be held Friday, at 10 a.m. at Church of the Assumption at in Peekskill.