Community Donations Secure Peekskill July 4 Fireworks at Riverfront
We are part of The Trust Project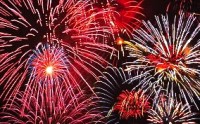 The annual Fourth of July fireworks event at Riverfront Green in Peekskill will go off without a hitch, thanks to donations from local businesses and individuals.
Officials from Peekskill's Volunteer Fire Department appeared before the city's Common Council recently to outline the costs of the event and the hurdles in fundraising, and to see if any assistance was available.
"We are so grateful to our Peekskill Fire Department and their commitment to the community," said Peekskill Mayor Frank Catalina. "We were able to secure the future of the fireworks through the generous donations of businesses and individuals. This is a beloved tradition that must continue. The fireworks not only bring great joy to families but also bring a great deal of business into Peekskill."
This year's 55th celebration will kick off at 7 p.m. with the Peekskill Riverfront Concert Series. The fireworks are scheduled to begin at approximately 9:15 p.m.