Class D Pleasantville Responds; Greeley, Yorktown, Mahopac Top 3 in B
News Based on facts, either observed and verified directly by the reporter, or reported and verified from knowledgeable sources.
We are part of The Trust Project
By Ray Gallagher, Examiner Sports Editor @Directrays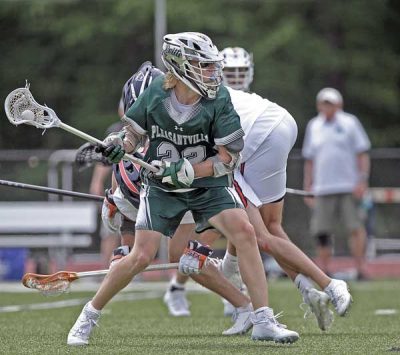 It looked a lot like Class D PLEASANTVILLE, the No.1 seed entering this week's Section 1 tournament,  was more than ready to bounce back Saturday when the Panthers (14-1) erased a 2-0 deficit against host BRIARCLIFF and secured a 15-5 league victory over Bears (5-10), who were shot out of a cannon and posted a 2-0 lead behind goals from Harrison Winger (2G) and Shane Dean.
But Pleasantville junior Emmet McDermott (4G, 2A) had seen enough and went on to have a hand in six goals as the Panthers began to have the look of a well-oiled machine as they enter the Section 1 tournament as the clear favorites, with Examiner-area teams like current No.2 HALDANE (12-2), No.7 BRIARCLIFF, No.9 WESTLAKE, No.10 CROTON (6-8) and No.13 PUTNAM VALLEY (6-10) hoping to advance.
As of press time Monday, the playoff seeds are far from etched in stone in all classifications, so much of this is speculative.
After suffering its first loss of the season to Pelham, state-ranked (No.1) Pleasantville looked the part of a team with a deep run in its future. The loss to the state-ranked (No.11) Class C Pelicans might have relieved some of the pressure of an undefeated season as the Panthers should receive a first-round bye for the playoffs before possibly taking on the Westlake/Keio winner on May 23.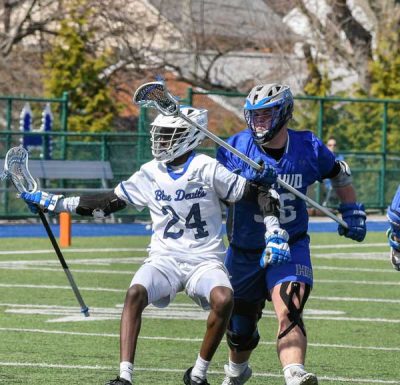 "That's exactly what we told the kids," Pleasantville Coach Chris Kear said. " We outshot Pelham by about 10 shots but missed the cage too many times. We had our chances, just an off day, I guess."
P'Ville's Hank McCourtney (2G, 2A), Erik Coleman (hat trick), Nick Reich (2G), Daniel Picart (2G), Michael Hundzyski (1G, 3A) and Aidan Cotter (1G) gave Panther G Andrew Nessel (9 saves) plenty of cushion to work with as the Panthers beat the state-ranked (No.7) Bears for the first time since 2018.
Bobby Colangelo and Alex Kirshenbaum each scored a goal apiece while G Jameson Wong made 10 saves for the seventh-seeded Bears, who should host No.10 Croton in Saturday's opening round of the Section 1 tournament. Coach Al Meola's two-time defending champion Bears have all the makings of a bracket-busting outfit, having faced one of the toughest schedules in the section #BewareTheBears.
State-ranked (No.11) Haldane suffered an 8-5 loss to CBA-Syracuse despite a hat trick from Evan Giachinta. Liam Gaugler added one goal and two assists while G Jordan Hankel made 12 saves for the Blue Devils (12-3), who should receive a first-round bye before potentially taking on the Briarcliff/Croton winner on May 23 in what may be the toughest quarterfinal draw of them all.
Putnam Valley finished strong in an 11-7 win over Class A OSSINING (5-10), seeded No.9.
PV sharpshooter Chris DeGiorgio (2G, 3A), Andrew Grippo (2G), Dakota Bourgie (2G) and Angelo Sirico (2G) were on fire for the 13th-seeded Tigers (6-10), who would visit No.4 Blind Brook Saturday if the seeds hold true. The Tigers lost to Blind Brook, 8-5, back on April 18. It's certainly not a dreadful draw for a 13-seed.
CLASS B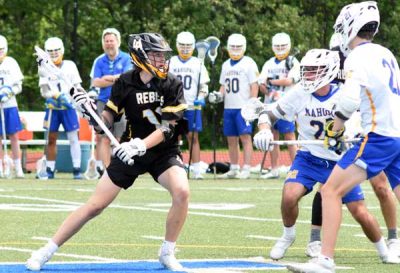 Ok, so it is what it is. HORACE GREELEY is looking like the No.1 seed and folks at No.2 YORKTOWN and No.3 MAHOPAC are clamoring for justice. They say Greeley hasn't beaten anybody above their pay grade and the Yorktown/Mahopac side of the bracket is stacked while the other side features the Quakers and Somers. We know because our moles in the street say so. That said, those same squawkers say that both state-ranked (No.8) Yorktown and (No.6) Mahopac have faced an emboldened schedule and should not meet in the sectional semis but should be on a righteous course to meet in the sectional finals #DontKillTheMessneger! We told you this monkey wrench was coming, and state-ranked (No.12) Greeley has held on to the top seed (as of press time) despite an 8-7 loss to visiting John Jay last Friday. Nobody would come on record but the vibe is out there, and the Quakers will need to prove the naysayers wrong as they likely embrace the Fox Lane/Eastchester winner on May 22 before getting the No.4 Somers/No.5 Clarkstown South survivor in the semis.
Greeley's Jameson Blakeslee scored 10 goals in the vastly-improved Quakers last three games, leading them to a 14-2 record. Blakeslee is the real deal. In a win over Kennedy Catholic, Blakeslee (4G, 1), Matthew Byrne (3G, 2A), Jack Holub (2G) and Tighe Dolan (2G) offset a big night from Gael sniper Fin McConnell (3G, 1A). The Gaels also celebrated the signing of middie Connor Baia (Catholic University).
In the 8-7 loss to state-ranked (No.9) Class C John Jay, Greeley had Blakeslee, Holub and Byrne each score two goals. In the Quakers' 19-5 win over Nanuet, Blakeslee (4G) led the Quakers. Spencer Kalish, Jason Kim, Connor Lummel and Jack Holub all scored a pair on Senior Night at Greeley.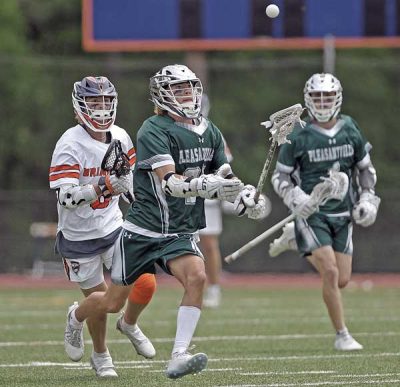 Mahopac (10-5) looked like a title contender Saturday in the second half of its 13-6 win over likely No.7 seed LAKELAND/PANAS 6-9), who should get a load of Yorktown (9-6) in next Monday's quarterfinals. Yorktown, which honored the life and memory of the great Rob Kavovit while raising awareness to mental illness before Saturday's 13-5 win over Carmel, will likely have to get past Lakeland/Panas and Mahopac (semis) just to reach the finals. I'm old enough to remember when these three tradition-rich programs were the toast of the town on a regular basis, before the rest of Section 1 caught up (and passed them in some cases) #GrowTheGame.
Indian junior M Danny Koch put four between the pipes and set up two goals to help overcome a 4-2 deficit against the improving Rebels. Pac M John Kearney dished five assists while attackmen Mike Rettberg and Jake Degnan each pinned a hatty on the Rebels. Chris Morris (15 for 23) ruled at the X and gobbled six GBs. Pac G Tommy Jacobellis (14 saves) saw his defense steady after a rocky start that enabled Rebel Justin Stabile to score two goals. Mahopac also held off a furious charge from Carmel las t Monday to pull out a 12-10 win.
Stabile and Thomas Kuney each scored four times in the Rebels' 13-8 win over BREWSTER earlier in the week. Michael Pisacreta (2G, 5A) scored seven points against the 13th-seeded Class C Bears (5-10),  who got two goals Joe Anfuso and Josh Walsh.
SOMERS passed a couple of big tests last week, knocking off FOX LANE, 10-7, and disposing of Greenwich (CT), 10-5, to set themselves up as a juicy No.4 seed, which includes a direct semifinal path through Horace Greeley to the finals where Mahopac or Yorktown should be waiting.
In the win over Fox Lane, Ryan Brush (4G, 3A) scored seven points for the Tuskers (7-8) while teammates Grayden Carr (hat trick) and Mason Kelly (2G, 1A) and Miguel Iglesias (2G, 1A) feasted in front of G Landon Pepe (7 saves). Tate Morrow and Jack Cicchelli each notched a hat trick for the Foxes (6-9), the current No.9 seed, who need to oust Eastchester in Friday's opening for a shot at Greeley in next Monday's quarterfinals.
The Tuskers also ditched a solid Greenwich club when senior M Luke Kennedy bagged a hat trick and Big Mac Sullivan (1G, 5A) played playmaker. Iglesias (2G), Brush (2G), Carr (1G, 2A) and Mason Kelly (1G, 2A) were making things happen in front of Pepe (13 saves).
CLASS C
HEN HUD (10-5), the current No.4 seed will lead the Class C locals, including No.BYRAM HILLS (8-7) and No.13 BREWSTER (5-10), into the postseason where Coach Troy Lepore's Sailors might catch a brutal path should they survive the Bears in Friday's opening round, including No.5 Pelham in Monday's quarterfinal round and No.1 John Jay in next Thursday's semis (May 25). The Sailors have the roughest path in Class C.
They tuned up on PUTNAM VALLEY in a 17-2 rout to finish the regular season when Dean Hiltsley (7G, 2) put a nine-spot on the Tigers (6-10), the No.13 seed in Class D, who knocked off Ossining in the season finale.
Sailor Thomas Popolizio (3G, 7A) dropped a dime on PV while Logan Moore (3G) and Dylan Lennox (2G, 1A) flourished as well.
Meanwhile, Byram Hills, which slapped around a pair of Dutchess teams – Wappingers, 11-6, and Arlington, 13-4, – to conclude the regular season, will have an equally tough road if the current seeds hold true. After opening with No.10 Sleepy Hollow, the Bobcats would face No.2 Rye, the reigning Section 1 Class B champions, who are down in Class C this spring.
Bobcats Reid Du Toit and Gavin Javorsky, who each had three goals and one assist in the win over Wappingers, will need more of the same.
Christian Cipriano and Dutoit also bagged hat tricks in the win over Arlington. Zach Pero and Javorsky both popped a pair of goals.
Brewster's Senior Night when swimmingly well in a 15-12 triumph of Croton, who had no answers for Joe Walsh (3G, 5A), Andrew Tyndall (3G), Jason Weller (2G), Harrison Schmitt (2G) and Joe Anfuso (3G).
Croton's Carter Schmidt (1A) did rip his 100th career goal earlier in the week, scoring his third of the might in a 10-9 OT win against Harrison.
CLASS A
CARMEL (8-8) could draw the No.5 seed and could travel to No.4 Suffern after beating Eastchester and losing to Yorktown last week. Against Eastchester, junior Matt Risley (3G, 5A) led the Rams, who also saw Thomas Connolly, Adam Boeheim and Ryan Aabel go for three goals apiece.
WHITE PLAINS (7-8) was staring at the No.6 seed potentially and would get a tough quarterfinal matchup against No.3 Mamaroneck, a perennial powerhouse with eyes on its first prize in three seasons. As of press time, No.2 Scarsdale, the two-time reigning champions, and Mamaroneck were on the same side of the bracket, much like Mahopac and Yorktown in Class B. North Rockland, who has lost to the tougher opponents on its schedule, could be the No.1 seed with a much easier path to the finals, despite getting hammered by Scarsdale, 13-4, last week.
Sometimes, sticking to the math and forbidding an overrule by the coaches or the chairman of lacrosse ends up costing fans the premier matchups in the sectional finals.