Class B/D Grid Notebook: Putnam Valley Wins on Homecoming Day; Something's Fishy in Croton
We are part of The Trust Project
PUTNAM VALLEY High is making a bid to save its season. After starting the year 0-3 in some close losses to quality programs, Coach Matt Mello's Tigers (2-3) have won consecutive games, including a 44-21 win over visiting Briarcliff last Saturday night on Homecoming Day in the Valley.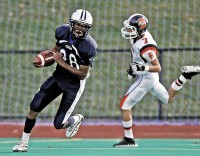 Meanwhile, something is fishy along the banks of the Hudson River where CROTON-HARMON has suffered consecutive losses for the first time since 2007 after a stunning 39-21 loss to host Ardsley. It's not exactly time to break out the body bags and bury the two-time reigning Section 1 Class B champion Tigers, but only four teams are going to make the Class B playoffs and 2011 state runner-up Croton is now fourth in the standings with no wiggle room left in games against Westlake and Nanuet remaining.
Putnam Valley hasn't been officially eliminated from the four-team Class B playoffs, but a realistic view of the Class B scenario would indicate slim playoff hopes for the sixth-place Tigers after Ardsley (3-2) defeated Croton to move up to No.5 in the Piner standings while No.2 Pleasantville (4-1) and No.3 Nanuet (2-2) continued to win and remain among the top 5. Still, the win over Briarcliff improved Put Valley's standing in the rankings; and with two weeks left anything can happen.
"It was a great win: Our parents, our staff and the volunteers put on an amazing event for our town, and the boys came through in a big way," Coach Mello said. "The offensive line is playing dominant ball right now."
The anchor of the O-line is Bryant-bound Rahhim Shillingford, but OT Ryan Yetter has progressed to the point where he has gone into beast mode at tackle.
"He's 6'3″ 260 and has great technique and footwork," Mello said.
Filling out the blocking scheme is FB Ricky Kilmer.
"He is just blowing people up from the fullback position," Mello said. "He is a devastating blocker."
Kilmer opened up holes for junior RB/LB Alex Bronzo, a laxer, who has really matured as a football player, according to Mello. Bronzo had two TD's against Briarcliff and intercepted a pass.
Put Valley rotated its backs from the second quarter on, leading to TD jaunts from both Richard Goods and shifty sophomore Dean D'Alessio.
"Each of them had bruising touchdown runs," Mello said.
Tiger QB Mike Walsh is becoming a great team leader. Walsh ran for a 34-yard score and fired a 15-yard touchdown pass to junior Meagle.
"He just makes plays whether he needs to run or throw," Mello said of Walsh, a captain. "Our two-point conversion, which has only failed once, is a well-oiled machine with Walsh at the controls.  He calls the two-point plays on his own and I don't question it."
It has amounted to a season-saving effort by the Tigers, who, with a slew of juniors on the roster, are optimistic about the future.
"We need to clean up some stuff but are looking forward to a nice post-season run," Mello said.  Putnam Valley won its first bowl game (Coaches Bowl) last year, defeating Westlake 26-7.
Defensively, DE's Erik Godinho and John Meagle each had a sack and LB Ryan Mello and DB Tommy O'Sullivan forced fumbles.
HALDANE
In perhaps the most surprising outcome of the weekend, Haldane – the little engine that could – nearly outraced speedy Tuckahoe (4-0-1) in a conclusion that neither team wanted to settle for, a 27-27 quadruple overtime tie. The Blue Devils (0-4-1) had a chance to win it, but a blocked PAT in OT thwarted Haldane's effort. Senior RB Nick DiGregario caught three passes for 80 yards and two touchdowns for the Blue Devils, who will have to wait for an early November post-season clash between the two Class D rivals to settle the score. Loser goes home!
Coach Jeff Sniffen's tweet on the game: "Content with the effort my boys showed; frustrated over the missed opportunities. Let's learn and grow from this."
JPEG Captions: ANDY JACOBS PHOTOS
10-9Tigers5-Richard Goods TD:
Tiger Richard Goods scored TD in rout of Briarcliff Saturday.
10-9Tigers3-Walsh:
Tiger QB Mike Walsh has had an impactful season at PV, rushing for and throwing a TD in 44-21 win over Briarcliff on Homecoming Day in the Valley.