Class B Tourney Awaits Decision on Return of Lakeland/Panas
Rebels Put on Pause, Could Put Yorktown, Rye on Collision Course; Armogida Earns 200th W
By Ray Gallagher Examiner Sports Editor @Directrays
& Rob DiAntonio @RJD_Photos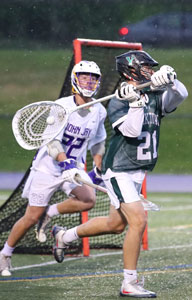 The Section 1 Class B boys' lax tournament, and the LAKELAND/PANAS program, was thrown an unforgiving curveball last week when Coach Jim Lindsay announced that due to a COVID-related pause his Rebels (8-3) — a top challenger for the 2021 sectional title — would not get back on the field before the first day of the Section 1 tournament (Friday, June 4), and that's the best-case scenario, according to L/P Coach Jim Lindsay. It's entirely possible that L/P won't take the field again this season, so our thoughts and prayers go out to the Rebels in the hopes that they can end their season on the field one way or another.
"We took it the best we could," Siena-bound Rebel senior Mark Cummins said. "We were dealt a bad hand, but it's only going to make us stronger as a team. If it happened a couple days later we wouldn't have qualified for sectionals. So, we know how easily the season could be taken away from us. We are staying very optimistic, keeping in touch with each other, and the coaches, and we're hoping that we are good to go come June 4th."
Should the Rebels return in time, Lindsay will have to work out the rust in a hurry if L/P enters a tournament field that will feature YORKTOWN and Rye, not to mention a MAHOPAC club that is hoping to put its best foot forward in an effort to reach the Final 4 or bust.
After three consecutive setbacks to Rye, Briarcliff and St. Anthony's, Yorktown Coach Sean Carney's Huskers (10-3) obliterated reigning two-time Section 1 Class B champion John Jay, 12-1, last Wednesday and then crushed Pelham in similar fashion, 9-1, on Friday.
Against the Pelicans, senior Dylan Beck (2G, 3A) got the Huskers going and the troops hopped aboard, including Will Embury (2G, 1A) and Harry Griff (1G, 1A). Evan Makar, Spencer Norris and Mike Marchini also scored for Yorktown while the defense stood tall before G Adam Norris (8 saves).
In Yorktown's 12-1 win over John Jay CR, Embury (3G, 1A), Griff (4A) and Beck (4G, 1A) delivered the bulk of the scoring while the defense stiffened once again before Norris (12 saves). The Huskers rested some bodies in a 9-6 win over CARMEL and saw Drew Weisman (2G), Liam Marr (1G), Makar (2G), Jack Baker (1G), Jack Duncan (1G), Ryan Vogel (1G) and Spencer Norris (1G) each score. Carmel senior M Ryan McDonald scored a hat trick for the Rams (4-8).
The Huskers will close out the regular season with a strong test from Class D favorite Bronxville Wednesday in the hopes of locking down a top 2/3 seed.
MAHOPAC (7-4) won its second in a row, an 11-3 triumph over Horace Greeley Thursday, putting the Indians in a pretty good position to secure a top five seed should they finish strong at Arlington Wednesday, maybe even top four depending on the L/P situation.
Greeley had no answer for West Point-bound junior Mike Harney (4G) or budding sophomore Mike Rettberg (3G). Matthew Puckhaber (1G, 1A), Gavin Viglucci (1G, 1A), Danny Koch (2G, 1A) and Jake Degnan (4A) were solid up front while the Indian defense produced a strong effort and M Chris Evans won 13-15 at the X while G Brett Crecco made 10 saves.
The Indians also made short work of visiting Wappingers in a 8-4 senior night win and were postponed against L/P.
SOMERS (9-6) has a chance to secure a top five seed with a solid finish after posting 14-5 win over host Harrison Saturday when Lorenzo Sessa continued a torrid stretch, scoring five goals for the second game in a row.
Somers senior T.J. Deagan added a hat trick and two assists while T.J. Olifers tacked on one goal and two assists.
The Tuskers were also blown out by Rye earlier in the week.
FOX LANE continued its strong season, edging Somers 13-12 behind five goals and three assists from Everett Banks last Tuesday. Jack Cicchelli tallied three goals and two assists and Will Shepherd added a hat trick. Sessa (4G, 3A) and Deagan (2G, 4A) sparked Somers.
"The keys to the win over Somers were timely face-off wins, saves, and goals but, even more so, an emphasis on the defensive end of the field," Foxes Coach Craig Henley said. "The boys bought into a few different concepts and executed very well. We were very proud of their effort."
Banks and Shepherd registered three goals and an assist each in a 12-5 win over Ossining as the Foxes moved to 9-3 on Saturday. Hallinan and Hoffman each had two goals for Ossining.
Fox Lane concludes the regular season by hosting John Jay-Cross River on June 2 and then enters a Class B sectional field as a likely top four seed.
"We are taking the season one game at a time with the understanding that, if we improve daily, we can be a dangerous team in the sectional tournament," Henley said.
HORACE GREELEY crushed Eastchester 13-1 last Monday. Matt Hutchings (3G, 1A), Jason Lungen (2G, 1A), Zach Eichenberg (1G, 2A) and Sam Rosenberg (16 saves) ignited the Quakers. Rosenberg made 17 saves in an 11-3 loss to Mahopac Thursday.
CLASS A
WHITE PLAINS Coach Mark Armogida, along with assistant Howie Rubenstein, earned their 200th career win together in the Tigers' 6-3 victory over New Rochelle in a game that was suspended Wednesday due to poor weather conditions and finished on Thursday.
Ryan Ortiz netted a hat trick while Danny Lasalle had a goal and an assist. Colin Walsh and Jake Strobel notched a goal apiece.
The 10-4 Tigers conclude the regular season against Carmel tomorrow (June 2) and then will take their shot at a Class A title where Mamaroneck is considered a huge favorite to repeat.
CLASS C/D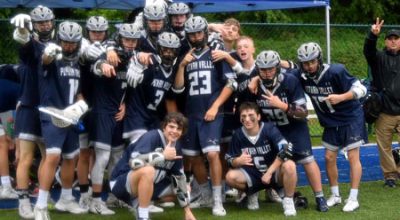 PUTNAM VALLEY clinched the Conference III North League title after winning its ninth in a row, a 14-5 win over HALDANE (6-6). Tiger senior M Ethan Mournier (4G, 1A) continued to lead by example with another stellar outing. Ryan Denike (2G, 2A) and Andrew Dzubek (4G) each had four points while Garrett Leitman (2G), Jack Murphy (1G) and Chris Meenan (1G) also contributed. Davin Porteus won 19 of 21 faceoffs and G Roger Raimo made 10 saves for the Tigers (11-4), who are starting to look like a team that could make the Class C Final 4. Anything less might be viewed as a disappointment given the current run of success and the feeling among the unit.
"It was another tremendous team effort from our kids this season," said PV Coach Tim Weir, who has found this season especially rewarding given a health scare he had last winter. "They have made many sacrifices. I'm happy for our kids, but they want more than a league title. We could be a tough out in the playoffs with a solid defense and many weapons on offense. Plus, we're winning face-offs, so we're getting to the point we need to be at."
Coach Weir's Tigers opened the week with a 17-6 win over Class C CROTON-HARMON (5-6) when Dzubek (3G) stayed hot to pace the attack. The stealth Denike (2G, 3A) added a team-high five points. Murphy (2G), Mounier (3G, 1A), Leitman (2G, 1A) and D Anthony Esposito (1G, 1A) all had multi-point games. Croton got three goals from Mike McCarthy.
With the regular season behind it, PV will turn its attention toward preparation for the playoffs where a top four seed is a likelihood.
"I want so much more for this awesome group of kids and so do they," Weir said.
In Haldane's 11-5 win over Eastchester, Darrin Santos had four goals and Evan Giachinta dished four assists for the Blue Devils. Liam Gaugler added a hat trick. Ryan Van Tassel, PJ Ruggiero and Rhys Robbins had one goal and two assists apiece. Haldane G Andrew Aiston made 20 saves.
Following a loss to Rye in early May, BRIARCLIFF rattled off eight straight wins, including monstrous victories over Yorktown and Mamaroneck, to close the regular season at 10-1 and claim a league title. The Class C Bears, who won the Class D section title back in 2019, are the heavy favorite to bring home a section title as the playoffs start up this Saturday with the opening round.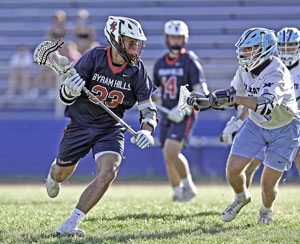 The Bears' top competition in Class C is likely BYRAM HILLS, who gave Briarcliff a run for its money last week. Byram led 7-5 after three quarters last Tuesday, but the Bears put their foot on the gas pedal in the fourth and pulled away for the 11-8 win.
"They are a very well-coached lacrosse team," Briarcliff Coach Al Meola said of the Bobcats. "They stick to their structure and play hard."
Richmond-bound junior Jack Ricciardi paced Briarcliff with a monster nine-point game (3G, 6A).
"Over the last four games, Jack has really settled back into his role as our offensive leader," Meola said. "He's distributing the ball as well as finding his match-up and going to the goal. He has an innate ability of calming the boys down and [helping them play] within themselves."
Nico Santucci netted three goals while Brandon Rispoli and Matt Waterhouse had two goals each for the Bears. Evan Van Camp made 12 saves. Hayden Fruhling and Gavin Javorsky tallied four goals apiece for the Bobcats.
A day earlier, Briarcliff cruised past Scarsdale, 11-3. Kyle Proctor (3G, 2A), Lucas Proctor (2G, 2A), Ricciardi (2G), Anthony Capasso (2G), and Van Camp (7 saves) did the damage for Briarcliff.
On Friday in the Bears' regular season finale, Briarcliff stormed out to a 10-0 halftime lead and was up 12-0 before host John Jay-Cross River got on the board. The Wolves made a surge once the subs were put in as the Bears claimed a 13-8 win. Kyle Proctor (3G), Ricciardi (2G, 2A), Rispoli (2G, 1A) and Waterhouse (2G) sparked the Bears.
The Bobcats bounced back from the loss to Briarcliff with wins over WESTLAKE and Tappan Zee. It was a 4-4 game at halftime with the host Wildcats, but Byram outscored them 6-0 in the second half to pull out a 10-4 win last Thursday.
Jake Teitelbaum's five-goal rampage led Byram Hills with Fruhling notching six points with three goals and three assists.
Ben Weinhoff was 13 for 19 on face-offs. Westlake was paced by Andrew Llamas' two goals and two assists.
Fruhling was on fire with six goals and an assist in a 13-9 victory over Tappan Zee on Saturday as the Bobcats moved to 9-3.
Benny Rakower (2G, 3A), Teitelbaum (3G), Sean Siegel (8 GBs), Weinhoff (19/24 face-offs) and Jack Quinn (8 saves) were key contributors for Byram.
Byram can lock up a league championship with a win over Somers tomorrow (June 2) in its regular season finale.
PLEASANTVILLE snapped a five-game losing streak with a 10-6 win over Westlake last Tuesday. Brennan McDermott (4G, 1A), Ryan Challice (3G, 1A) and Daniel Picart (2G, 1A) did the damage offensively while Ryan Raefski made nine saves. Tyler Howard, Anthony DelDuca and Aidan Pray tallied a goal and an assist apiece for Westlake.
The Panthers fell to Class A favorite Mamaroneck 11-5 on Saturday to drop to 8-6. They finish the regular season at Croton today and will then enter the Class D sectionals starting with Saturday's first round.
Westlake rebounded from the losses to Pleasantville and Byram with an 8-6 win over Croton on Saturday. The Wildcats also defeated Ossining 14-6 last Monday behind Connor Cronin (3G, 2A), Matt Sardo (1G, 4A), Llamas (2G, 2A) and Howard (3G). Caden Hallinan (3G, 3A) and Nate Hoffman (2G, 2A) led the Pride.