Class B Pleasantville, Class A Yorktown Remain Unbeaten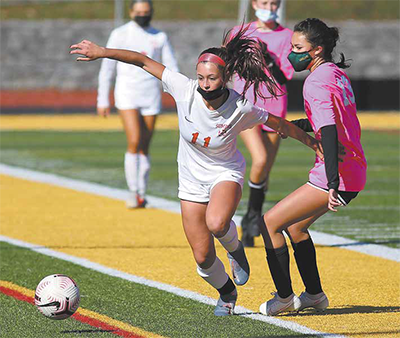 By Ray Gallagher
Examiner Sports Editor
@Directrays
Section 1 soccer coaches are patiently awaiting a decision from the proverbial bigwigs sometime this week regarding the playoff formats. Unconfirmed reports (aka rumors) seemed to indicate a regional postseason rather than a sectional playoff, one that looks like this: Dutchess bracket (all classes combined); Rockland bracket (all classes combined); 2 Putnam/NorthernWestchester brackets (large school/small schools); 2 Southern Westchester brackets (large school/small school). It's not what we were hoping for when we entered this COVID-19 abbreviated season, but the hope is to crown as many as six regional champions within the section by late November. But it's better than nothing.
CLASS B
Reigning NYS champion PLEASANTVILLE is scoring in bunches, doing so in a 4-1 win over Rye Neck, who had no answer for Izzy Kapoor, who had a hand in every single goal, scoring twice and assisting on a pair. She now has seven goals and five assists on the season. Jess Beck (1G, 1A), Grace Capko (1G) and Katie Moses (1A) were all in on the scoring for the Panthers (9-0). Moses, an All-NYS selection last year, has gone for six goals and seven assists. Coach Christopher Osterhoudt's club is one team nobody wants to see in the postseason. In yet another display of scoring depth, the Panthers saw Amber Nanaj score twice in a 2-0 win over Blind Brook Wednesday. Nanaj has five goals and three assists on the season. The Panthers have only surrendered two goals this season and continued to score in bunches, making for a lethal combination.
"Yeah, we tend to do that sometimes," Osterhoudt said. "Izzy really played well the other day getting two goals and two assists. She has really stepped it up the last few games. We gave up a goal in the first 10 minutes of the game against Rye Neck, so the team had to regroup and get things together. We were able to score two goals shortly after that and finished the game very strong."
It's going to take a Herculean effort to slow these Panthers down.
BRIARCLIFF got back in the win column after a 3-0 triumph of Westlake. Ashleigh Fortunate, Arianna Vizcaino and Annie Dineen each found the back of the net. The Bears (5-1) added a 6-0 victory over Valhalla when Arianna Vizcaino scored a hat trick in the win. Fortunate added two more goals for the Bears, giving her a team-high seven for the year. Jennifer Straface leads Westlake with five goals and an assist. It's starting to smell like a Briarcliff vs. Pleasantville showdown for what could be an exciting Class B regional title game, would Section 1 opt for regional tournaments over sectionals.
PUTNAM VALLEY's Angie Anzano scored in the Tigers' 1-0 win over HADLANE, who put 10 shots on PV G Karol Noguera, including a blocked PK to preserve the win and the shutout.
CLASS AA
WHITE PLAINS made short work of FOX LANE in a 4-0 win when Melissa Soto tickled twine twice while Julieth Velasquez and Alexa Galligani each scored one.
MAHOPAC, the 2019 runner-up, could be the team to beat in the Northern Westchester/Putnam playoff bracket, should Section 1 decide on regional tournaments. The Indians knocked off a strong Bronxville club, 2-1, behind tallies from Bryant-bound senior Hailey Pereira (1G, 5A this season) and sophomore Piper Klammer, her fifth of the season.
Junior D Marissa McCarney had one assist while G Maddy McCrosson had seven saves. Mahopac senior Mia Klammmer, who has battled some nagging injuries, leads the Indians with six goals.
OSSINING knocked off FOX LANE, 1-0, when Nyasha Nyoni scored off an assist from Lily Pawliczak and Marie Felipe (six saves) notched the shutout win. Fox Lane G Giulianna Satina had seven saves in the defensive battle.
CARMEL's Jessica Turner had two goals and one assist in a 4-1 win over RCK. Megan Wiener and Haley Glassman had one goal and one assist apiece. Kayla MacElhinney dished out an assist for the Rams. Carmel's Alexa Ramirez had seven saves in the first half, before Haley Ricker came in to close out the game with five saves after halftime.
CLASS A
SOMERS may be getting its act together at just the right time. If Section 1 decides to go with a regional playoff, as opposed to a sectional postseason, the Tuskers would be strong challengers after a 6-1 romp of LAKELAND Friday. In fact, the prospect of a Somers vs. YORKTOWN title match might be something very possible, and quite juicy, should they end up on opposite sides of a playoff bracket.
Tuskers Dahlia Pepe and Ella Kittredge both tallied two goals and one assist in the win over the Hornets. Noelle DeMarinis and Maddie Lyle also scored for Somers. Tori Righetti and Caroline Russell had one assist each for Somers. Aisha Bhaki scored the Hornets' lone goal from Francesca Gerbasi.
Meanwhile, Yorktown hasn't skipped a beat, off to perhaps the finest start in history after the Huskers improved to 8-0 behind a 2-1 win over host LAKELAND. Abby Passarella and Julianna Vano scored for the Huskers. Vano, a super soph, now has eight goals on the season to go with three assists. Yorktown also bested Hen Hud, 3-1. Tinaj scored off an assist from Vano. Emily Ward scored for Yorktown off assists from Tinaj and Vano. Alicia Menduni scored the third goal for Yorktown on a PK. G Erisa Krasniqi had two first-half saves while G Ciara O'Brien (5 saves, including a PK) played the second half.
Drita Tinaj assisted on both scores and now has two goals and six assists. With the game tied 1-1 at half, Vano scored 10 minutes into the second half. Husker G Erisa Krasniqi (eight saves) stopped all but Linda Daly's lone Hornet tally off an assist from Caitlyn Carroll.
Major contributions for Yorktown continue to come from Chayce Buono, Cate Ward and Sophia Spallone. Defensively, Grace Pearce, Sammy Paglino, Katie Tomeny and Erisa Krasniqi have all been solid and limit opportunities to opponents. Returners Emily Ward and Vano have been clutch while newcomers freshmen Tinaj and Kaitlyn Judge continue to grow with each game, according to Coach Rich Armstrong. With a win over either Panas or Brewster this week, the Huskers would lock down the league title.
BYRAM HILLS swept GREELEY after a 3-1 Bobcat triumph Tuesday when Olivia Tedesco put two between the pipes. Alexa Jindal also scored for the Bobcats with assists going to Reese Ertel and Sara Grgurovic. Quaker hotshot Ramsey Edson scored for Greeley. HEN HUD's Lena Johnsen scored twice in a 4-0 win over PEEKSKILL and now has four goals to go with three assists. Sniper Kira Virada leads the Sailors with eight goals and three assists.
BREWSTER defeated PANAS, 3-2 behind Sabrina Bisio, who had two goals. Jillian DeRose added another much-needed tally for the Bears. Angie Rappa, Amanda Sherman, and Gianna Gioielli all set up a goal. Panas' Kayla Guevara (2G) kept the Panthers in the running.
Soccer coaches are encouraged, if not begged, to contact raygallaghersports@gmail.com with results, stats and comments to highlight the hard-working student athletes in your programs by 6:00 p.m. every Sunday.
JPEG Captions: BILL KENNEDY/TONY HUMBERTO/RAY GALLAGHER PHOTOS