Class B Grid Notebook: Croton Comes up Small vs. OLL; Put Valley Saves its Season
We are part of The Trust Project
There were two things in play on the Class B grid circuit for the two local teams: First, could defending Section 1 champion Croton-Harmon, ranked No.10 in NYS, fend off its toughest regular-season challenge in two years from No.7 Our Lady of Lourdes, and second; could Putnam Valley save its season by upsetting state-ranked (No.19) Edgemont.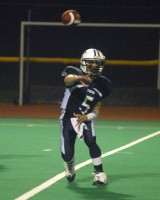 Croton (3-1) couldn't get it done, Putnam Valley (1-3) did.
Lourdes was simply more physical than Croton, the 2011 NYS runner-up, who came up shorter than expected in a 27-0 to Lourdes at Overlook Park Saturday. Warriors RB Bryce Gioia, who ran for 257 yards and three touchdowns, carved up the Tigers behind a massive O-line that had its way in the trenches. Croton, which saw its 21-game win streak against Section 1 opponents broken, was held to less than 10 yards of total offense in the first half and finished with less than 50 for the game.
Croton Coach John "Big Cat" Catano could only tip his cap to the Warriors, who held the two-time champs to just 69 total yards and two first downs, and are now the clear-cut favorites in Class B under former Brewster Coach Gerry Walsh. Croton will host Ardsley Saturday at 3:00 p.m.
PUTNAM VALLEY, which has been knocking on the door in three close losses this season, finally broke through against an Edgemont team that was looking like a sure thing for one of four Class B playoff berths until Coach Matt Mello's Tigers played saboteur and tossed a monkey wrench into the Class B scene with a thorough 44-30 victory.
PV QB Mike Walsh had a career game, rushing 15 times for 140 and a career-high four touchdowns; the majority of those yards coming behind massive 6'2" 280-pound Rahhim Shillingford, the Bryant-bound OL/DL, who is looking like an All-Section player with over six tackles per game.
"He is very good," Coach Mello said of the Big Shill, who is a road-grader on offense.
Junior RB Alex Bronzo added 172 yards on 18 carries, including jaunts of 52 and 59.  The 59-yarder went to the house right after Edgemont scored their last TD, which put PV up by 14. FB Ricky Kilmer had 37 yards on six carries and a TD.
"The O-line dominated all day," Mello said.  "Christian Gilleo got his first start at guard and was devastating on trap plays.  We also moved James Fitzgerald to guard and that has given us a solid replacement for (Kevin) Hay who is out right now with a concussion. "
WR Stephen Carroll had two sliding catches on 3rd-and-long to move the chains, but the Tigers did the bulk of their damage on the ground, rushing for a season-high 378 yards.
The PV defense bent but didn't break. Junior John Meagle had a big sack on 3rd-and-long and tough DB AJ Mirabal had a sack and a pick in the second half.  Shillingford finished with eight tackles, two for losses, and DB Tommy O'Sullivan had 10 tackles from the safety position.
"We knew we were better than 0-3 and needed to prove it," Mello said. "This young team is growing up quickly now."
The Tigers will hope to keep it going while building on its hopes for a Class B bowl game. They will likely have to win out to do so, but it is entirely possible with the schedule in front of them. The Tigers will host Briarcliff Saturday (6:00 p.m.) on Homecoming Day in the Valley before closing out the season with rival Kennedy Catholic and Palisades Prep. Should the Tigers run the table and go 4-3, they might be bowl worthy for the first time since those good crops in back 2005 and '07.